2018 Edition of Beltand Road Initiative: Media Cooperation For Effective Results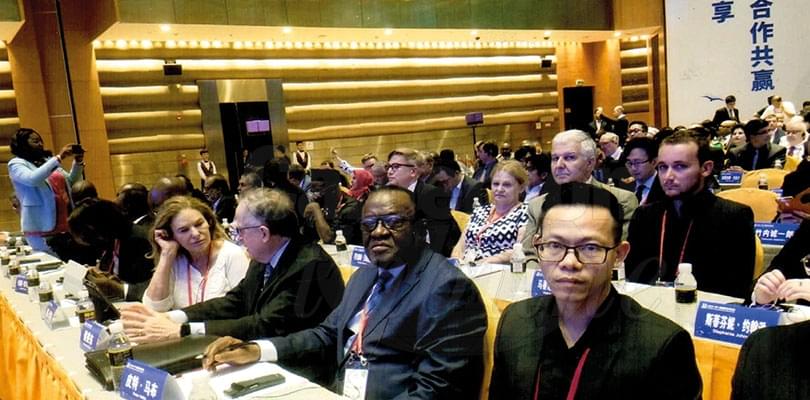 Barely a few weeks after African leaders had met in Beijing to participate at the Forum on China-Africa Cooperation, FOCAC, media professionals and a cross section of intellectuals, converged on Hainan, this time, to delve into the role of the media in fostering of cooperation on the Belt and Road Initiative, BRI. Also known as the One Belt Road, it is a development strategy adopted by the Chinese government to boost infrastructure and investment in Europe, Asia and Africa.
The 2018, BRI forum which brought together over 300 participants from Europe, Africa and Asia started meeting on 29 October 2018 in Hainan, one of China's largest tropical Islands. During this forum which besides presentations by media professionals, politicians, and economic experts handled a variety of topics on cooperation and development, there was also a debate on Artificial Intelligence and the Smart Media.
While appreciating the role of the smart media in the gathering and dissemination of information, participants at the forum noted with concern that our intelligence and smart media can also become a dangerous weapon, if human beings do not use these gadgets which include smart phones with respect for our socio economic needs.
Besides other areas of education and sensitization which demand the use of the media, the Belt and Road Initiative is so crucial for international cooperation and development that professionals with a concern for a common future must be conscious of what it means to derive the best from this initiative. But what is the Belt and Road Initiative that inspired the People's Daily, organizers of the Forum to invite such a cream of intellectuals and professionals to talk development and cooperation? Launched by Chinese President, Xi Jinping in September 2013, the Belt and Road Initiative has an initial focus, investment in infrastructure, education, construction materials, railway and highway, automobile, real estate, besides iron and steel.
The BRI also addresses infrastructural gaps aimed at accelerating economic growth in Asia, Central and Eastern Europe. Fortunately, the BRI is so geographically structured that besides what goes on in China, efforts are being made to see that the corridors that give a wider image of this initiative affect not only Europe and Asian countries but also those of Africa.
In their presentations during the forum, speakers, especially Chinese leaders, appealed for effective education of the masses of the developed, as well as de veloping nations to appreciate and contribute to what is needed to give the BRI the meaning it deserves. In his keynote last year at the World Economic Forum, President Xi Jinping made an allusion to this concern when he stated China's firm commitment to economic globalization, free trade and innovation-driven development.
At the opening of the 2018 edition of the media cooperation on Belt and Road, BRI, a participant from Africa, Nigeria's Olusegun Adeniyi, attracted the admiration and applause from his Chinese hosts as well as Africans when he said, "We must make a distinction between the colonialism of physical occupation and exploitative extraction of resources that we had in the past, and the indirect control or neo-colonialism that the Chinese are being accused of." Our colleague, Olusegun did not end his speech without stressing the important truth about ourselves as nations, during fora such as the 2018 edition of the Belt and Road Initiative.
As the forum rounded its deliberations in Beijing Friday 2nd November 2018 Chinese personalities like H.E. Ji Bingxuan, vice chairman, standing Committee National Peoples' congress NPC, Mr. Li Baoshan, President of the People's Daily as well as Jiang Jianguo,
Deputy Head of Publicity Department Peoples Daily made to clear that if the Belt and Road Initiative is going to attain its mean objectives, the various media of communication have to be committed to their role of informing, objectively, educating adequately, and sensitizing impartially to enable the masses to be aware of what they must be doing in order to be effective in cooperation for development.
Same category