Armistice: Day: Importance Of Peace Lauded In Yaounde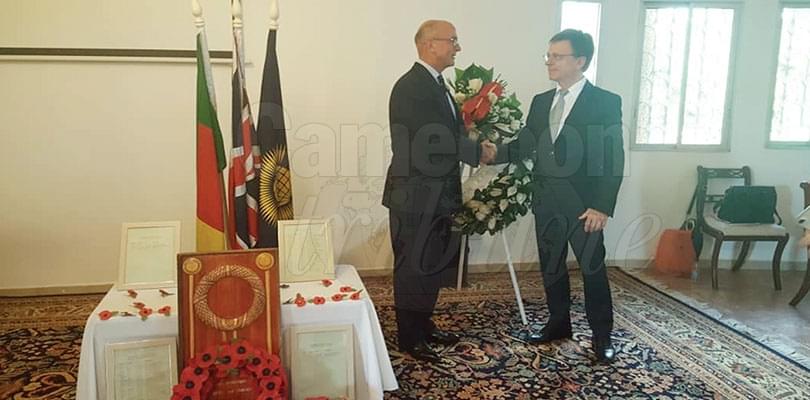 The British High Commissioner to Cameroon, Rowan James Laxton hosted an event at his residence on 11 November, 2018.
Government officials and some personalities in Yaounde assembled at the Bastos residence of the British High Commissioner to Cameroon, Rowan James Laxton on Sunday 11 November, 2018 to commemorate the Armistice Day. Armistice Day is commemorated every year on 11 November to mark the armistice signed between the Allies of World War I and Germany at Compiègne, France for the cessation of hostilities on the Western Front of World War I.
This took effect at eleven o'clock in the morning—the "eleventh hour of the eleventh day of the eleventh month" of 1918. This year marked the 100th anniversary of the end of the First World War.
Present at the ceremony were: The Secretary Of State in charge of the Gendarmerie (SED), Galax Yves Landry Etoga, Minister Delegatefor Commonwealth, Felix Mbayu, Minister in Charge of Special Duties at the Presidency, Chief Dr Dion Ngute, Commonwealth Heads of Mission in Cameroon, heads of diplomatic missions, among others. A major highlight of the event was the laying of wreaths in honour of the fallen soldier.
According to the British High commission in Yaounde,the first Armistice Day was held at Buckingham Palace, commencing with King George V hosting a "Banquet in Honour of the President of the French Republic" during the evening hours of 10 November 1919. The first official Armistice Day events were subsequently held in the grounds of Buckingham Palace on the morning of 11 November 1919.
This would set the trend for a day of Remembrance for decades to come. Both Armistice Day and Remembrance Sunday are commemorated formally. In recent years Armistice Day has become increasingly recognised, and many people now attend the 11:00 a.m. ceremony at the Cenotaph in London – an event organised by Royal British Legion, a British charity dedicated to perpetuating the memory of those who served in the First World War and veterans of all subsequent wars involving British and Commonwealth troops.