Mora-Dabanga-Kousseri Road: Stakeholders Evaluate Progress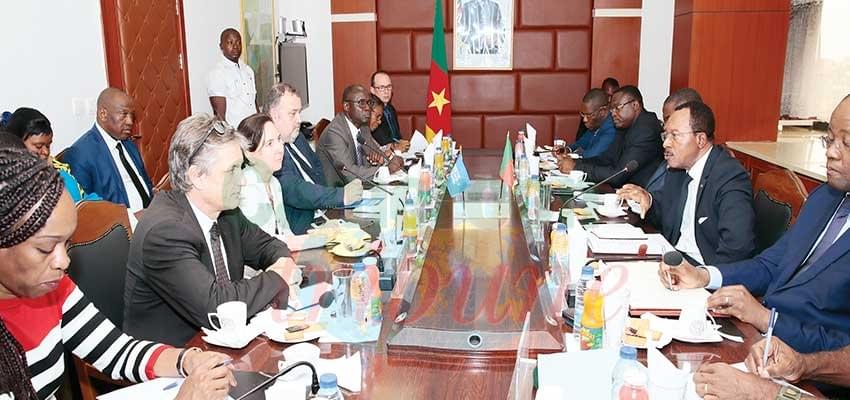 Funded by the World Bank, construction of the road by the military engineering corps now stands at 52 per cent.
Construction of the Mora-Dabanga-Kousseri road is well on track, after a three-month halt caused by heavy downpours, Colonel Jackson Kamgaing, Director of the Military Engineering Corps, has said. He was speaking at a meeting in Yaounde which brought together World Bank staff and officials of the Ministry of Public Works, Friday November 16, 2018.
According to the executor of the project, the execution rate now stands at 52 per cent. During the stock-taking meeting, it was noted that there has been a six-month delay in executing the first work plan adopted by the stakeholders.
It was also noted that the military engineering corps is in talks with two contractors who are willing to collaborate on the project. The Waza-Dabanga stretch of the road which was initially programmed to be rehabilitated, it was said, needs to be redone. The need to construct some bridges which were initially not previewed along the road was also raised. The Minister of Public Works, Emmanuel Nganou Djoumessi thanked the country's technical and financial partner of the project - World Bank - for the funding.
He assured them that construction work was going to be fast-tracked. The Minister gave specific instructions to his collaborators, amongst them the need to carefully and promptly handle complaints from locals so that work is not obstructed. A date was chosen for a coordination meeting. Friday's meeting was coming after a field visit by a World Bank Team.
Pierre Bonneau of the World Bank who heads the project said: "We have been to the field in the Far North and our first impression is satisfactory. Genie Militaire and the Minister of Public Works have launched activities on the ground. It is still a starting point but it is a good moment".
De la meme catégorie