Time To Further Diversify Relations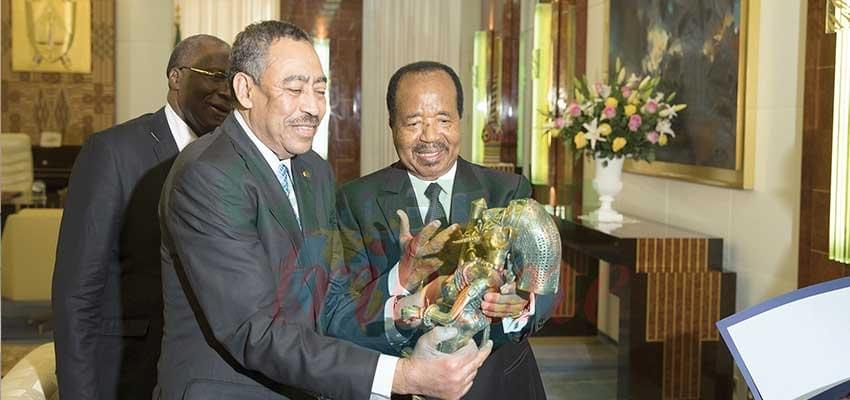 The Vice Minister of Defence of Saudi Arabia, Mohammed Al-Ayeesh concluded a working visit to Cameroon by holding talks with President Paul Biya.
Cooperation ties between Cameroon and the Kingdom of Saudi Arabia are witnessing another leap forward with security and military cooperation in gestation. The Saudi Vice Minister of Defence Mohammed Al-Ayeesh had talks with President Paul Biya at the Unity Palace on November 19, 2018. This came on the heels of his working session with Cameroon's Minister Delegate at the Presidency in charge of Defence, Joseph Beti Assomo in which the visiting Vice Defence Minister said they envisage investing in the security and military domain in Cameroon. Saudi Arabia has a rich experience in fighting terrorism and Cameroon that has been hit in recent years by an upsurge of terrorist attacks stands to benefit from the experience.
Relations between Cameroon and Saudi Arabia had hitherto been witnessing a steady boom in the domains of culture and economy. During celebrations marking the 84th National Day of Saudi Arabia in Cameroon on September 23, 2014, the Saudi Ambassador to Cameroon, Mohammad Bin Suleiman Almussher said, his country had been contributing to the development of Cameroon by financing economic and social development projects, particularly in energy, transport, training, agriculture and infrastructure sectors. In the education sector, Cameroonian students are admitted in the Saudi Arabian universities every year to pursue studies in diverse fields. Also in the cultural and religious domains, thousands of Cameroonian pilgrims go to Saudi Arabia every year for the Hajj.