Resolving Crisis In NW, SW: Manidem Calls For End To Violence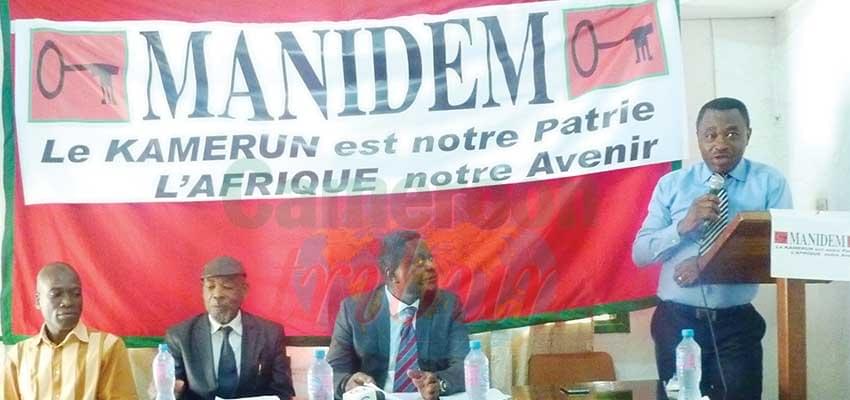 This was in a press conference jointly granted by Anicet Ekane and Woungly Massaga on Tuesday in Douala.
The President of Manidem, Anicet Ekane and the veteran of the national army for the liberation of Cameroon, Ngouo Woungly Massaga jointly granted a press conference at the headquarters of the party in Doula to reiterate calls for dialogue to solve the crisis in the North worth west and South west as well as combat tribalism which they say has been on the rise since the holding of the October 7 presidential election. Though both men seem to have a convergence of views as regards combating tribalism, their opinions differ when it comes to ways of solving the 'Anglophone problem.' While the Anicet Ekane calls for unilateral dropping of weapon by those 'who have dared to take up arms against the country' Woungly Massaga posits that the groundwork needs to be laid for the armed separatists to be able to drop their weapons. Another point of discord had to do with the organization of the "All Anglophone General conference". While Massaga sees nothing wrong in holding the conference, Ekane does not buy the idea at all claiming it is adopting a sectarian approach to solve a holistic problem. However both men were agreed on shunning tribalism which they said could lead to the destruction of the country. Ekane said there is need to sensitise Cameroonians against tribalism as well as enact a law proscribing tribalism. Both men said the press conference was just a first step in a campaign to end violence in the North West and South West Regions as well as combat tribalism.
Same category