Artists' Residency: Cameroonians, Beninois, Tunisians Compare Notes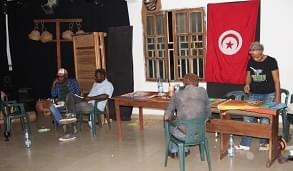 Zingui Centre in Ekoumdoum, Yaounde, hosted the 12-day programme
Some 9 professionals in the domains of creative writing, painting, music, video and photography, met in an artists' residency from November 10-22, 2018. There was also a painting workshop for 10 children. Organised in Zingui Centre, Ekoumdoum, Yaounde, by multi-talented artist, Francis Beidi, the 12-day programme had as participants six art practitioners from Cameroon, one from Benin and two from Tunisia."Usually, art residencies are for people in particular specialties and not all of them combined. In reality, it is difficult to completely separate art specialties like creative writing, painting, music, photography, etc from each other as all of them draw inspiration from the environment," Francis Beidi explained.
Read also :
Droits d'auteurs de l'art musical : environ 1500 artistes passeront à la caisse
The purpose of an artists' residency is to provide a conducive environment for them to create new works based on certain themes by providing the necessary tools and material. "Participants are allowed to create without any restrictions, based on their inspiration. Residency is a time to compare notes – not teach per se," Beidi pointed out. "We will publish a book comprising poems and pictures of the paintings made during the training and use the music produced as soundtrack in the video on the residency. The VCD, to be attached to the book, will also contain pictures of all activities undertaken during the training," Beidi said.Francis Beidi read Applied Electronics in Cameroon before venturing into art. The widely-travelled young man, probably in his early thirties (would not disclose his age), is also a published author, painter, film maker, documentary producer, graphics artist, webmaster, etc.
Read also :
Saison Africa 2020 : des artistes camerounais en vedettes
Same category