Defence and Security: FCFA 247 Billion For Territorial Defence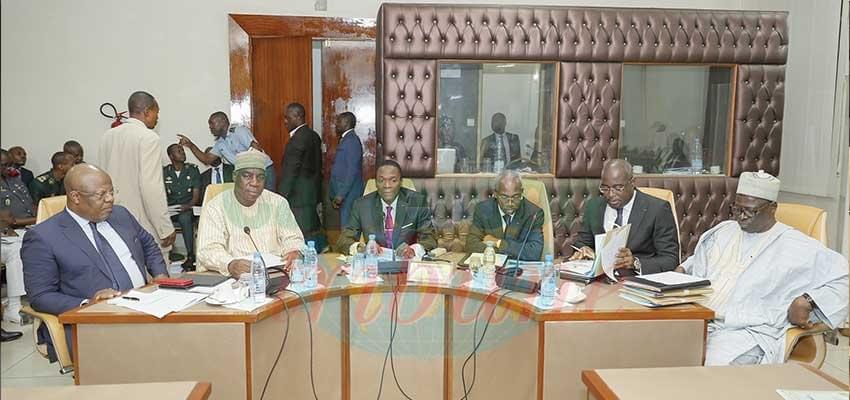 Priority for the Ministry of Defence for 2019 will be defending territorial integrity and promoting peace and security which are enabling factors for economic and social development.
The Minister Delegate at the Presidency in charge of Defence, Joseph Beti Assomo on November 22, 2018, defended a draft budget of FCFA 247 billion 447 million for the 2019 fiscal year before members of the Finance and Budget Committee of the National Assembly. The Committee is headed by Hon. Moutymbo Rosette Ayayi with Minister Jules Doret Ndongo representing the Vice Prime Minister, Minister Delegate at the Presidency in charge of Relations with Parliament, Amadou Ali. Going by the budget proposal of Minister Joseph Beti Assomo, priority areas will be safeguarding territorial integrity, ensuring the protection of persons and property, contributing to national development efforts, governance and institutional support to the defence subsector. Explanatory notes on the presentation of the Minister before the Committee members indicate that the Ministry of Defence envisages within the framework of implementation of the proposed budget should it be validated, the setting up of new Gendarmerie units and the intensification of road safety sensitisation campaigns while punishing Highway Code offen ders. The continuation of efforts to facilitate the access of Defence Forces personnel to housing and medical care, which more specifically targets the implementation of the decisions of the Head of State to improve the living conditions of servicemen, rejuvenating and strengthening workforce through the finalisation of the recruitment process for 7,500 personnel (90 officers, 710 Non-Commis sioned Officers, 4,600 soldiers and 1,900 student gendarmes) and the continuous training of staff on defence and security are other areas the proposed budget will seek to realise.
Read also :
Creating An African Medicine Agency : Cameroon Praised For Pushing Agenda
Same category