2018 World Handicap Day Celebration:Douala Blends with Paul Biya's Victory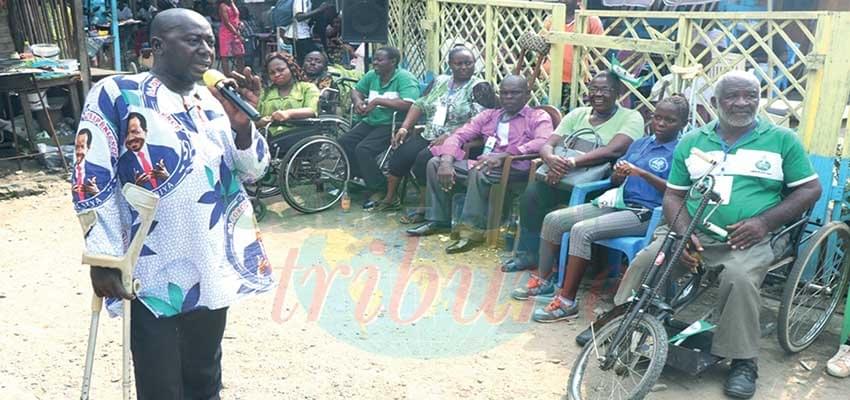 About 400 persons withdisability carried out anapproximately 2km walkto commemorate the Day.
The 2018 International Day of Personswith Disabilities was celebratedin a grand style in the economic capital. For the first time, the Regional Platform and Associations of Disable Persons in Douala known by its French acronym PASPHAL, fused the celebration with the victory of Paul Biya to the helm of the republic. To demonstrate that disability is not inability, the crowd of visually impaired, crippled, lamed, and albinos walked from the Cathedral situatedat Bonadibong in Akwa to the Post Office in Bonanjo chanting songs of togetherness and victory. The approximately 2kmwalk ended with an official ceremony attendedby representatives of the Governorand the Senior Divisional Office.According to the President of the Organising Committee, Martin Nsim Kalassini,the commemoration of the 2018 International Day of Persons with Disability is a perfect occasion for them to celebrate the Head of State's victory given that they participated massively not only during the voting exercise but also duringthe campaign period.
Celebrated on the theme, "EmpoweringPersons with Disabilities and Ensuring Inclusivenessand Equality," Martin NsimKalassini said all they want is for the populationto accept and support them ontheir endeavours. He praised people of goodwill that often donates to them andthanked the Publisher of Cameroon Tribune for the immeasurable support towardstheir events. No matter their disability,most of the disabled person are financially autonomous and involved inbusinesses, and arts and craft among other sectors. It is worth of note that the World Day of Persons with Disabilitieswas instituted by the United Nations General Assembly in 1992 and celebratede very December 3rd to promote therights and well-being of persons with disabilities in all spheres of development and society.
Same category