Nelson Mandela Centenary: Blood Donation Organised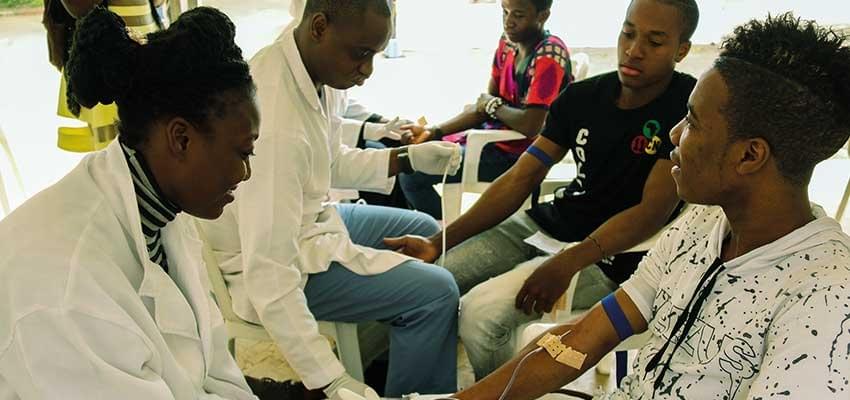 The event on December 11, 2018 in the University of Yaounde I was to mark the birthday of the late South African leader.
Nelson Mandela, South Africa's nationalist leader and first black President, died on December 5, 2013 at the age of 95 after serving one term of office from 1994-1999. If Mandela had been alive, he would have turned 100 years on July 18, 2018. To mark the centenary anniversary of his birthday, the South African High Commission in Cameroon, the Ministry of Public Health and a local telephone company, on December 11, 2018 organised a blood donation exercise in the University of Yaounde I at Ngoa-Ekelle.
Speaking at the event, High Commissioner Kgomotso Ruth Magau said they chose the charity event because there are always people in need of blood. "In memory of Nelson Mandela, the High Commission encourages people to do something – no matter how small – to change lives. Like Mandela always said, take action, make a difference," she underscored. The South African High Commissioner also encouraged university students to be followers of Nelson Mandela.
Dr Noah Owona, Permanent Secretary of the National Programme for Blood Transfusion, described the blood donation event as "another opportunity for Cameroonians to save lives and show solidarity towards each other." Staff from the Hospital Centre for Applied Research in Endoscopic Surgery and Reproductive Health, CHRACERH, the Military Hospital, Central Hospital and Jamot Hospital – all in Yaounde – were present to collect the blood. "The donated blood will be shared amongst the four hospitals because many patients are waiting to receive blood transfusion in these health facilities and elsewhere in the city," Dr Owona explained.
Dikoua Bassam Jean Lambert, a Sociology student of the University of Yaounde I said he donated blood to help sick people, though it was his first time to do so. "I also took advantage to get tested for HIV, Hepatitis and Syphilis," Dikoua explained. Nyungu Mess Christine, another Sociology student of the University of Yaounde I, told Cameroon Tribune she came to donate blood to save lives after being sensitised. It was also her first time to do so.
Same category