African Rice Production: Farmers Upgrade Skills To Up Output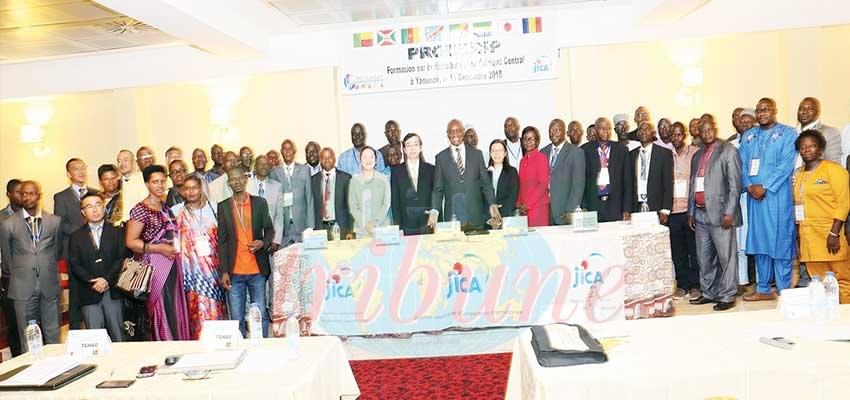 A four-day regional workshop supported by the Japanese International Cooperation Agency opened in Yaounde, Tuesday December 11, 2018.
Rice production in Africa is expected to get a boost following the training of agric stakeholders in irrigated and rainfed rice cultivation. A fourday sub-regional training workshop on the theme: "Rice farming techniques," opened in Yaounde, grouping participants from Gabon, DR Congo, Burundi, Chad, Benin and Congo. The workshop which started on Tuesday December 11, 2018, was opened by the Minister of Agriculture and Rural Development, Henri Eyebe Ayissi, in the presence of the Japanese Ambassador to Cameroon, Tsutomu Osawa. The workshop, which is in line with efforts to upgrade the capacity of stakeholders in member countries of the Coalition for African Rice Development (CARD), will focus on rice farming inputs, farming and post-harvest techniques, as well as multiplication of seeds. It will give participants the opportunity to exchange ideas, reflect and concert on rice farming in the sub-region. The training is facilitated by the Project for the Development of Integrated and Rainfed Rice Cultivation (PRODERIP); an outfit initiated by the Japanese International Cooperation Agency (JICA). Since its creation in 2011, PRODERIP has been encouraging rice cultivation in the Centre, South and East Regions of Cameroon as well as in CARD member states. Some 15,000 agric personnel and rice farmers have been trained so far. Minister Eyebe Ayissi called on participants to take the training seriously, since the skills they will acquire could be a game changer for food security if well implemented. He said "with support of CARD, Cameroon since 2008, has a strategy for the development of rice farming." According to the Minister, the goal is to increase local production, and as such reduce import of rice, thereby contributing to giving equilibrium to the country's balance of trade.
Same category