Cameroon- European Union Hold Second Political Dialogue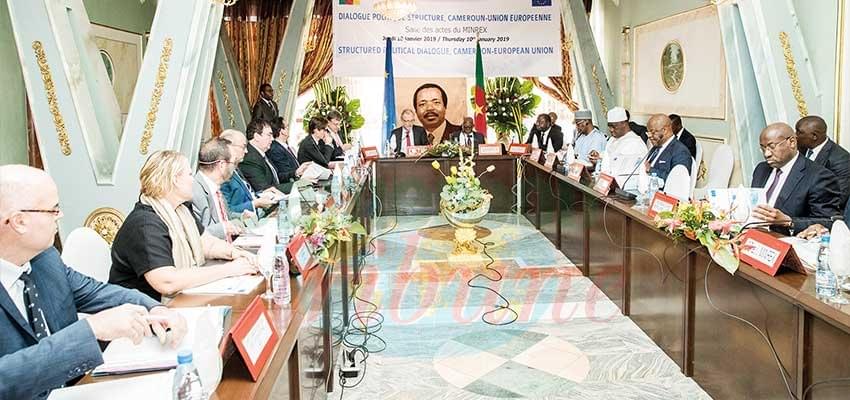 Post-Cotonou Accord negotiations, the sociopolitical climate in Cameroon and reviewing midterm budgetary support amongst others are issues discussed at the dialogue.
Instituted by Article 8 of the Cotonou Accord of June 2000 between African, Caribbean and Pacific States, (ACP) and the European Union (EU), a structured political dialogue is organised for formal discussions and exchanges with the objective of improving relations. It therefore explains why European Union member countries meeting at the Ministry of External Relations on January 10, 2019 held a second political dialogue during which four fundamental points were discussed.
Co-chaired by External Relations Minister, Lejeune Mbella Mbella and the Ambassador, Head of EU Delegation in Cameroon, Hans-Peter Schadeck, and attended by diplomats, members of government and representatives of the civil society, deliberations centered on the electoral process in Cameroon, the situation in the Anglophone regions of the country, post-Cotonou negotiations given that the present agreement expires in February 2020 and a midterm review of EU budgetary support to Cameroon for the 2017-2019 period.
Highlighting on the importance of the dialogue, External Relations Minister mentioned some of the measures already taken by the Head of State towards finding lasting solutions to the socio-political situation in the North West and South West Regions of the country.
He cited the creation of the National Disarmament, Demobilisation and Reintegration Committee (NDDC) by President Biya and the subsequent appointment of Fai Yengo Francis to head the committee which has centres in Bamenda, Buea and Mora. Going by him, the just organised presidential election in Cameroon which witnes sed the participation of nine candidates manifested the political maturity of citizens.
For the Head of EU Delegation in Cameroon, Hans-Peter Schadeck, the constructive dialogue is intended for durable solutions. He said the EU remains open to partner with Ca meroon in several domains including the protection of human rights. "Cooperation ties between Cameroon and the European Union remain firm and multifaceted spanning through trade, humanitarian aid, governance, security, science and culture," he stated
Same category