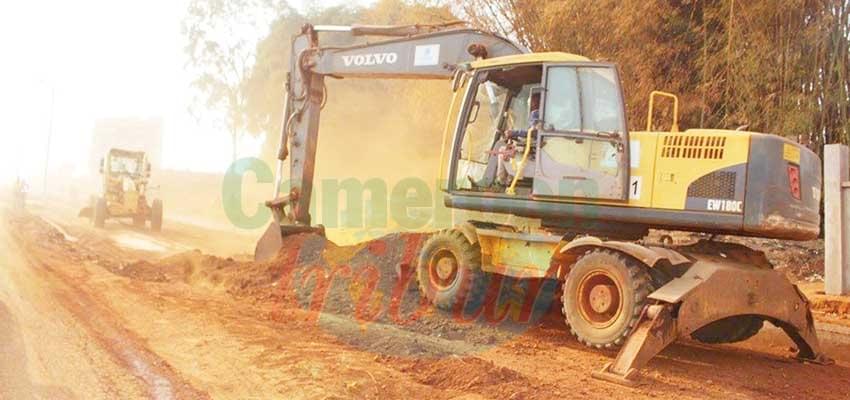 The deal involves the Ministry of Public Works, the National Civil Engineering Equipment Pool and Belgian multinational, Dem Group
Government on February 1, 2019 signed a multibillion commercial contract with Belgian multinational company, DEM Group for the delivery of some 662 machines and vehicles to the National Civil Engineering Equipment Pool (MATGENIE); a contract said to have the potential to significantly improve the national road network.
The Minister of Public Works, Emmanuel Nganou Djoumessi signed on behalf of the government of Cameroon while the Chief Executive Officer of Dem Group, Mostafa Chenbout penned for his company in the presence of the General Manager of MATGENIE, Desiré Abogo Ntang and other officials. The equipment will be delive red on hire purchase.
The circa FCFA 157.430 billion (240 million Euros) worth contract is backed by a 100 per cent guarantee from the Belgian government, said the CEO of the company which is carrying out operations in some 20 African countries. Dem Group officials told reporters after signing the partnership agreement that they will provide MATGENIE with over 600 equipment and create training centres in the various regions of Cameroon to ensure the effective use of the machines. They harped on the importance of effective use of the equipment, opining that just owning or having access to state-of-theart equipment is not good enough.
In this regard, the multinational company which is operating in Cameroon under its subsidiary DEM Cameroon, committed as part of the terms of agreement, to train locals on how to use the equipment which consist of diverse sorts of machines and vehicles required for construction as well as rehabilitation of roads. The supply of equipment will be done within a period of two years but government holds the right to extend the duration. We learned the equipment will be grouped into three sets.
The first will be allocated to 28 mobile intervention brigades for road maintenance in all the 360 local council nationwide, another one will be set aside for construction companies wanting to rent them, while the third will be kept in the MATGENIE equipment pool for use on contracts. It should be noted that MATGENIE has exclusive rights to construction of projects of the Ministry of Public Works following an agreement signed between the two entities in 2018. The company is also allowed to enter biddings for contracts awards.
Same category