Road Construction Projects : Public Works Minister Committed To Clear Hiccups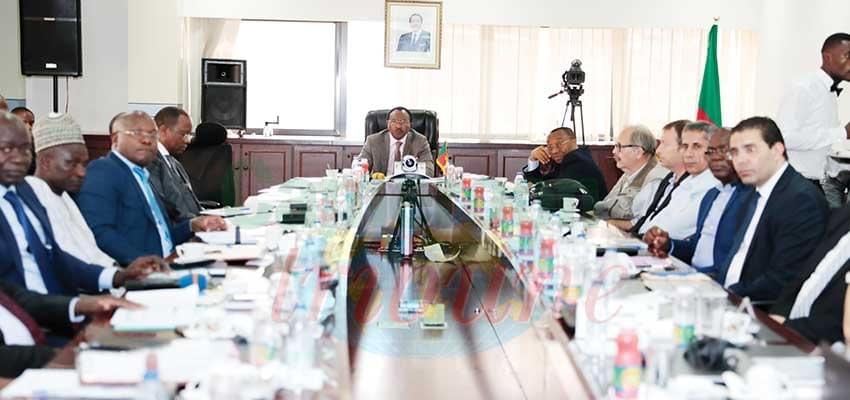 Emmanuel Nganou Djoumessi took the engagement last week after evaluating over 40 ongoing road projects in the country.
The Minister of Public Works, Emmanuel Nganou Djoumessi has said all necessary measures will be taken to address certain constraints which impede the advancement of works on some road construction projects. He took the engagement on Friday February 8, 2019, at the close of a week-long evaluation meeting.
During the meeting with staff of his ministry and different contractors, control missions and follow up engineers, the Minister called on those executing social infrastructure projects to take them seriously. He also urged the contractors to make technical choices well in order to reduce cost. In addition, Nganou reminded the contractors of the need for them to keep progress record up-to-date.
The Minister was reacting after listening to contractors present some of the difficulties they are encountering in the execution of different projects. Common amongst the constraints were: the non-liberation of project sites by locals over payment of indemnity, delays in the disbursement of funds, administrative bottlenecks as well as insecurity as for the cases of the North West and South West Regions. Minister Nganou promised to clear the hiccups so that the road projects which have a great role to play in achieving Cameroon's emergence by 2035 can move on successfully till the end.
Over 40 road projects were reviewed during the evaluation meeting, such as the rehabilitation of the National Road No.4 (Yaounde-Bafoussam-Babadjou) and the construction of a bridge on River Sanaga along the Batchenga-Ntui road. Stakeholders disclosed that efforts were being increased get the first phase (60km) of the Yaounde-Douala double-carriage (express) complete.
Other infrastructural projects under construction to include the second bridge over River Wouri, the replacement of culverts along the Yaounde-Douala highway, the Kribi-Lolabe expressway, and the Kumbo-Ndu-Nkambe-Misaje road, were also reviewed.
Same category