Cameroon-Saudi Arabia Relations: Speaker of the Holy Mosque in Yaounde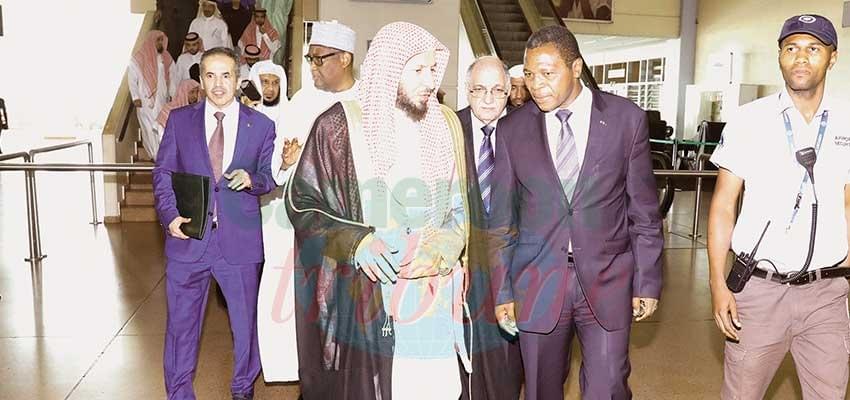 They were received at the airport yesterday by the Minister of Territorial Administration
An important delegation from Saudi Arabia is in Cameroon for a four-day working visit. The delegation led by the Iman and Speaker of the Holy Mosque of the Prophet of Medina, His Eminence Cheikh Abdullah Bin Abdul Rahman Albaeijan accompanied by fourteen persons arrived in Cameroon yesterday February 13, 2019 and were received by the Minister of Territorial Administration, Paul Atanga Nji, the Minister Delegate to the Minister of External Relations in charge of Relations with the Islamic World, Adoum Gargoum, and the Saudi Arabian Ambassador to Cameroon, Mohammed Suliman Al Mussher.
The delegation which will pay a courtesy visit to the Ministry of External Relations today February 14, 2019 is in Cameroon principally for the inauguration of the extension of the Tsinga Islamic Complex in Yaounde (Centre of the Servant of the two Holy Mosques) scheduled for later today as well. He is equally expected in Maroua on Saturday February 16 for the inauguration of the Maroua Grand Mosque.
His Eminence Cheikh Abdullah Bin Abdul Rahman Albaeijan, is a wellrespected personality in the Islamic world and has the rank of a minister within the government of the Kingdom of Saudi Arabia. His visit demonstrates the friendly relations existing between Cameroon and Saudi Arabia and will further consolidate the strengthening of ties between both countries.
Prominent amongst those in his delegation is His Eminence Sheikh, Dr. Saad Bin Nasser Alshatri, Member of the Council of Great Oulemas and Counsellor of the Servant of the Two Holy Mosques of King Salman Bin Abdul Aziz Al-Saud. The Saudi Arabian delegation is visiting Cameroon few months after the very much appreciated visit of the Vice Minister of Defence of Saudi Arabia who visited in November 2018.
Minister Atanga Nji ensured a warm welcome was accorded the delegation and saw to the installation at the Hilton Hotel where they are expected to be lodged till February 17 when their official visit comes to an end.
Same category