Legislative, Municipal Elections: ELECAM Working To Meet Target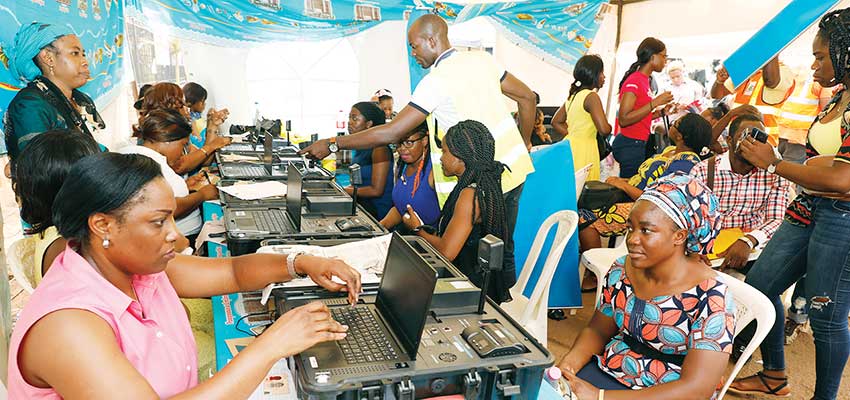 The elections governing institution at the beginning of the year set the objective of 10 million registered voters before the electors are called to the polls.
When the voters registration operation ended in 2018 at the time electors were called to the polls for the October 7, 2019 presidential election, about 6.7 people had enrolled in the electoral registers both back at home and in the Diaspora. The number of registered voters by then, lured Elections Cameroon (ELECAM) to set the target of 10 million registered voters by the time electors are called to the polls for the expected legislative and municipal elections this year 2019.
The Director General of Elections at ELECAM Erik Essoussè said the target was because Cameroon has potential electors who could be more than the number should they enrol their names in the electoral registers. Since the official launching of the operation to revise voters registers, this year, Electoral Board members of ELECAM have been combing all the nooks and crannies of the country to supervise the operation and encourage potential voters to register. Staff of ELECAM Council branches have also been on the field registering the yet unregistered potential voters.
They take advantage of every gathering such as churches, markets and popular road junctions to install the electoral kits and register willing voters. It is in this connection that they had a stand at the just-ended Promote 2019 Business Forum in Yaounde to exhibit ELECAM activities and also register voters. The institution has also stepped up material preparations for the registration operation by acquiring the state-of-the art registration kits that are better adapted to the field as they are less cumbersome to carry around and produce better results in terms of pictures and receipts printed.
ELECAM has been carrying out awareness creation campaigns in the va rious media and in posters put in strategic positions in major cities. Elections Cameroon has been working in collaboration with some political party officials who by law form part of the Joint Voters Registration Commission. According to the Director General of Elections, Erik Essoussè, the involvement of political parties in the voters registration operation is average.
ELECAM continues to en courage political parties to be more involved in the operation considering that political parties are the main beneficiaries in the electoral process. In the present focus, the Director General of Elections at ELECAM throws more light on the steps taken by ELECAM to reach the target registered voters. It also presents the ongoing registration operation in some branches of ELECAM.
Same category