CAR Peace Agreement: President Commits To Make It Work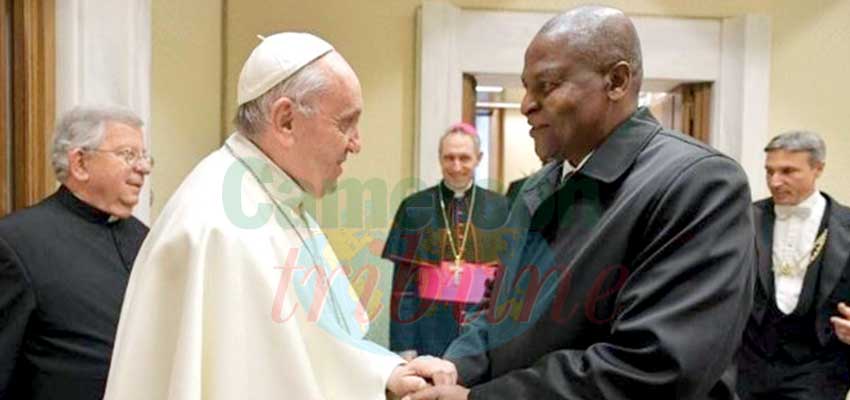 Faustin-Archange Touadera made the pledge during a meeting with Pope Francis at the Vatican.
Central African Republic, CAR President, Faustin Archange Touadera on March 5, 2019 met Pope Francis at the Vatican during which he discussed the accord reached by the government and 14 rebel groups in the Sudanese capital, Khartoum on February 5, 2019. The two men at the end announced that the framework agreement on relations between the two sides had taken effect.
In spite of the rejection by some rebel groups of the inclusive government formed earlier this week by Prime Minister Firmin Ngrébada, the President promised to do everything in his power to ensure that the peace deal – the eighth in five years since the current crisis began in 2013 – is implemented. "We are looking for peace.
The accord has mechanisms for us to continue to work together," Touadera told the press after meeting Sant'Egidio officials at the Vatican. "It is normal to expect hitches in an agreement. We are determined to ensure that this accord brings lasting peace to the Central African Republic, are ready to do everything possible within the mechanisms provided for by the deal," he said. "It is a big challenge. This is why we came to ask for additional efforts because it is one thing to have an agreement, and another to implement it.
Thus we need the assistance of all our friends," he noted. In a statement, the Vatican said the Pope and his team encouraged the commitment to promote peaceful living together and national reconciliation, likewise efforts to put an end to all forms of violence in order to enable refugees to return home. "Reconciliation is underway. I think this began during the visit to Bangui by the Holy Father in 2015. He planted the grain, which we have continued to water. There are difficulties and challenges, but we remain confident," the President underscored.
Five of the 14 armed groups that signed the Khartoum Peace Accord last month in Bangui have rejected the unity government formed on March 3, 2019, arguing that it was not inclusive enough. Meanwhile, the Chair of the African Union Commission, Moussa Faki Mahamat, on March 5, 2019 convened a followup meeting of stakeholders of the Khartoum Peace Accord for March 18, 2019 in the Ethiopian capital, Addis Ababa.
Same category