Manyu IDPs: President Biya Extends Largesse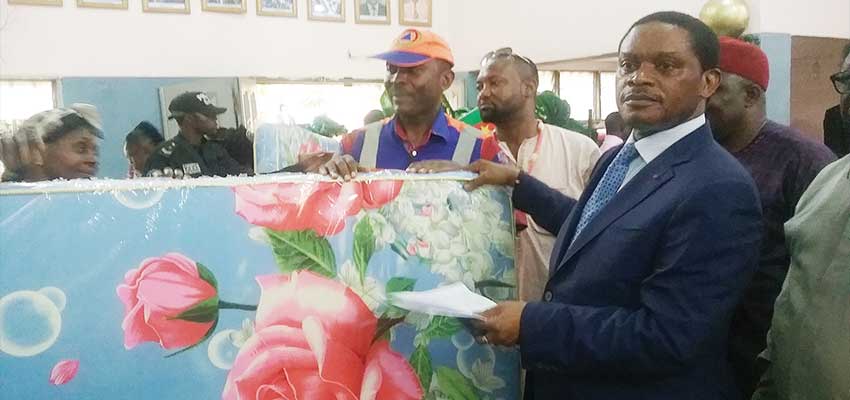 The special ceremony saw the handing over of food and household items to some displaced persons at the Manyu Hall in Yaounde.
On instruction of the Head of State President Paul Biya, the Minister in charge of Special Duties at the Presidency of the Republic, Mengot Victor Arrey last Friday, March 8, 2019 offered food and household items to Internally Displaced Persons (IDPs) from Manyu Division now in Yaounde.
The distribution exercise which is part of President Paul Biya's Emergency Aid package to victims of the socio-political crisis, took place at the Manyu Multipurpose Hall in the presence of the President of Manyu Elements Cultural and Development Association (MECDA), Professor Agbor Gabriel and a delegation headed by the Sub-director of Civil Protection in the Ministry of Territorial Administration, Mr Tchuente Gilbert.
As of Friday, it was revealed that over 400 displaced persons from Manyu Division were currently being hosted by 120 families in Yaounde. Thus, the 100 sacks of rice, 25 cartons of cooking oil, 50 cartons of soap, 25 sacks of beans, 25 cartons of milk, 25 cartons of sugar, 25 mattresses and 100 buckets, will go a long way to relieve some host families.
Speaking during the occasion, Minister Mengot Victor hailed President Paul Biya for his foresight and ceaseless munificence towards the Manyu Community. He thanked his brother and colleague Minister Paul Atanga Nji, Chair of the Emergency Humanitarian Assistance Plan, for his prompt reaction in making the items available despite a short notice.
To the displaced persons from Manyu now resident in Yaounde, Minister Mengot Arrey called on them to be ambassadors of peace. He urged them to judiciously put into use the different items provided by government.
While calling on those who are still in the bushes fighting to come out, he reminded them that President Paul Biya through his government and other channels has put in place different institutions to facilitate their rehabilitation and integration in the society.
One of the beneficiaries, Orock Frida, expressed her joy to the Presidential couple; "We thank the Head of State and wife for the numerous food and household items they have sent. It is a sign that he has not forgotten us despite the hard times. Our wish is that he should do everything to bring peace so that we can go back to our various homes," she said
Same category