MINMAP Visits Projects in Douala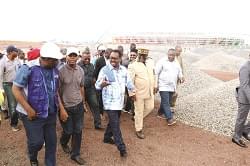 The visit took him to the Japoma stadium, the East entrance into the city as well as the access roads.
The minister of Public Contracts, Ibrahim Talba Malla is currently on a three-day working visit to Douala to assess projects on structural projects in the Region. On the first day of the visit yesterday, March 13, 2019 the minister inspected the Japoma stadium, its acess roads as well as the East entrance into the city. At the Japoma sports complex; it was revealed that work on the general edifice is completed by 85.09 per cent and on the stadium proper and its annexes, completed by 89.63 per cent. The stadium is completed, roofing almost completed and grass already planted on the green turf. The seats have also been affixed on the tribunes and electrified already. The parking lot is also near completion as work is said to have been executed by 56 per cent.
Work on the widening of the East entrance was also in progress as the construction company INTEGC is expecting the arrival of some equipment to speed up work. Their base has at Misole after the Dibamba Bridge was also visited by the Minister, same as the Japoma- Nkolbong road. At each lap of the minister's visit, the construction companies, gave an up-to-date report about the progress of work, difficulties encountered as well as projections for the future/ the difficulties raised had to do with late payment of bills, displacing the population from the road course, demolition of houses and fences, displacing electricity poles and water pipes.
Speaking at the end of the visit, the minister expressed satisfaction with the level of work done and was well on course. He however said some medications need to be done so as take into consideration some security concerns and enable fluidity of circulation. He called on the contractors not to relent their effort 'I know some people relented after what happened last November but I am calling on them to continue with the same assiduity to carry the projects to fruition', he said. Today the Minister will be visiting the West entrance as well as the MINMAP Regional office under construction in Douala as well as the Bepanda, Bonamoussadi and Mbappe Lepe stadiums. Tomorrow, he will visit the Douala-Yabassi road equally under construction
Same category