Territorial Collectivity Census: Head Count Begins In Yaounde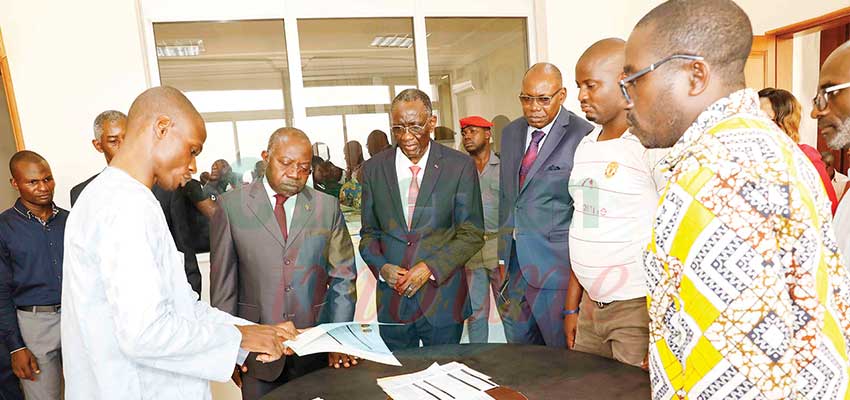 Decentralisation and Local Development Minister, Georges Elanga Obam visited some councils in Yaounde yesterday where the exercise is effectively on course.
In a bid to promote good governance and an effective local public service, a census is being conducted on council staff to determine their technical capacity. The Minister of Decentralisation and Local Development, Georges Elanga Obam on March 20, 2019 visited the Yaounde City Council and the Yaounde II Council where the exercise is on course to evaluate the level of effectiveness.
The census which started last Monday March 18 and is expected to end on March 25 is characterised by the collection of data on the educational and professional experience of staff of councils in Yaounde and nearby areas. After visiting the Yaounde City Council and the Yaounde II Council, Minister Elanga Obam stated that he was satisfied with the manner in which the census exercise is unfolding.
"I think the people who are on the field are doing a good job. I would like to emphasize on the fact that the operation is the result of the general meeting we had with all the councils in the month of February. One of the resolutions was that we should make census on the personnel working in councils. The aim is to have an effective local public service," he explained. Going by the Minister, questionnaires are being given to the workers which will help in determining their educational levels and work experiences.
"We need to know the profiles of people working in councils and the needs of the council. This will facilitate in training and other technical issues in councils," he stated. The exercise which is intended to be conducted nationwide but with the pilot phase beginning in Yaounde and its nearby areas is being supervised by Mayors, with the col laboration of the Ministry of Decentralisation and Local Development.
Same category