Peace Building: The Japanese Experience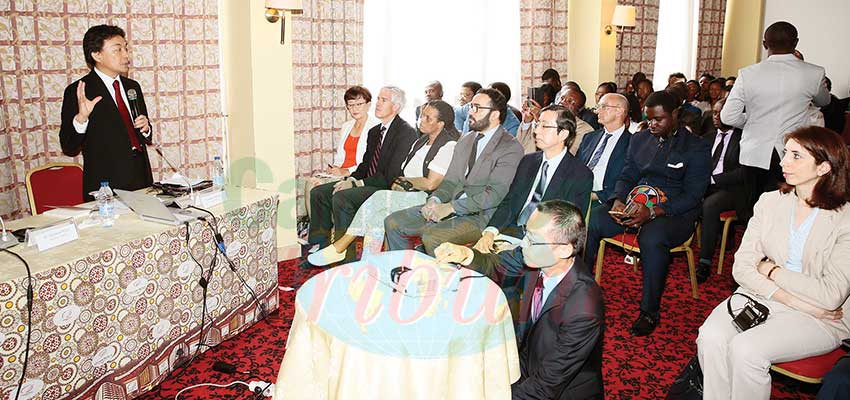 Visiting Prof. Hideaki Shinoda gave two lectures in Yaounde on March 22, 2019.
Japan has risen from the ruins of World War II to become the world's third largest economy and one of the most technologically advanced nations today. Prof. Hideaki Shinoda, Director of the Hiroshima Peace-builders' Centre, HPC in Japan, gave a lecture on "Current International Peace Operations" at the Yaounde Djeuga Palace Hotel on March 22, 2019. He said the country overcame recurrent wars in the 19th and 20th Centuries by acknowledging what was wrong, and then moving forward as a new-born nation state.
The lecture was attended amongst others by seven heads of diplomatic missions in Cameroon – Japan, United States, South Africa, South Korea, Sudan, Great Britain and the Democratic Republic of Congo, DRC. "Japan has for over 70 years now known continuous peace and stability following the massive destruction caused by World War II," he noted. After deploying peacekeepers in South Sudan in 1992, Japan has since focused its efforts on assisting 24 peacekeeping training centres on the continent, Prof. Shinoda said.
They include the International Security Forces School, EIFORCES, Awae, on the outskirts of Yaounde Later the day, Prof. Hideaki Shinoda was at the International Relations Institute of Cameroon, IRIC in Yaounde where he gave another lecture on "Japan's Reconstruction History." With Hiroshima and many other cities completely destroyed in World War II, Japanese rose to the challenge by promoting strong interpersonal skills, courageous, confident and responsible leadership, and creating a nation state that has continuously been improved. Other steps taken, the guest said, were avoidance of excessive centralisation, emulation of different Western governance models, clear identification of the nation's problems, and the ge neral consensus amongst the people that there was urgent need for reforms.
In the process, Hiroshima, which suffered the devastating 1945 atomic bomb attack, was renamed "Memorial Peace City." The country also embarked on massive urban renewal schemes, transformation of industry, railway and port development. On how Japan was able to identify its problems, Shinoda said the people did not pretend, ignore or shy away from the real challenges. "They boldly acknowledged their major problems, analysed the consequences and proffered solutions in a consensual manner," Shinoda said.
He attributed the country's rapid technological growth after World War II to deliberate, targeted and prioritised government policies; support for reconversion of skills, and stimulation of the private sector. Prof. Adolphe Minkoa She, Rector of the University of Yaounde II (under whose oversight IRIC falls), said Japan's peace-building and reconstruction experience speaks to Cameroon at a time the nation is undertaking a similar exercise sequel to the crisis in the North West and South West Regions, and Boko Haram war in the Far North Region.
Same category