Fonction publique: un nouveau visage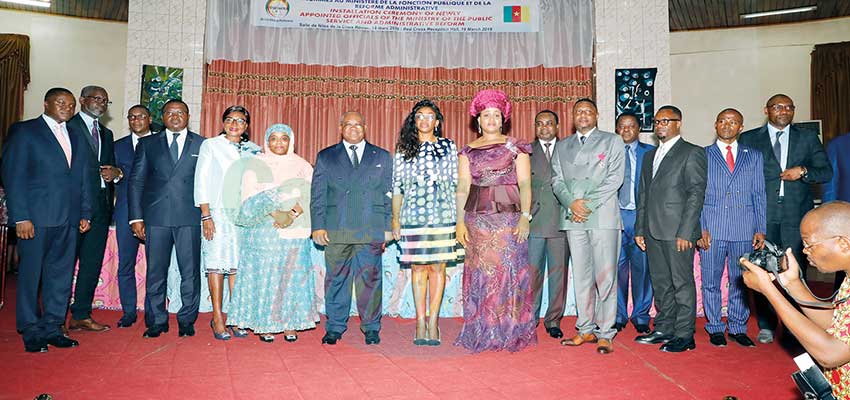 Le ministre Joseph LE, et son équipe ont pour défi de satisfaire au mieux les usagers
Des hommes et des femmes pétris d'expérience pour relever le défi d'une Fonction publique de proximité. C'est le principal credo qui accompagne la nouvelle ère au ministère de la Fonction publique et de la Réforme administrative (Minfopra).
Read also :
Maternal, Newborn, Child Health: Mortality Rates Curbed, Hospital Delivery Figures Raised
Ces nouveaux responsables, nommés dans ce département ministériel, à la faveur des décrets du président de la République et du Premier ministre, chef du gouvernement, ainsi que d'un arrêté ministériel ont été installés dans leurs fonctions respectives le 19 mars dernier à Yaoundé par le ministre Joseph LE.
Read also :
Personal Sacrifice That Paid Off
Il s'agit de : Tabod Jacqueline Mah Mejang et de Yves Alain Tchagadick Njilla, respectivement inspecteur général et secrétaire permanent à la Réforme administrative (Spra). D'autres hauts responsables également concernés par ces nominations occupent des postes de responsabilité de conseillers techniques, d'inspecteurs, de directeurs, de chefs de division, de sous-directeurs et assimilés et de chefs de service et assimilés. Ce redéploiement du personnel survient un an après la nomination de Jo seph LE à la tête de ce département ministériel.
Read also :
Kangaroo's Huge Challenges, Despite Strides
Avec pour slogan : « Au Minfopra, l'usager est roi ». Il a été prescrit à chacun des collaborateurs, une feuille de route axée sur la modernisation de l'administration pu blique. Entre autres chantiers de 2019, figurent la mise en place du Sigipes II, la numérisation des archives du fichier central et l'introduction de la biométrie dans la gestion des ressources humaines de l'Etat du Cameroun.
Read also :
Kilsas Julienne: "Just For The Love Of Humanity!"
Dans cette boussole, le volet coopération n'est pas en reste. Au cours d'une interview accordée à CT, le ministre Joseph LE effectue une esquisse de bilan des activités menées jusqu'ici et présente ses perspectives.
Read also :
Accepting Vaccination: Why Change In Communication Strategy Turned The Tides
Same category