HIV/STIs: CIRCB Edifies Mefou and Akono Population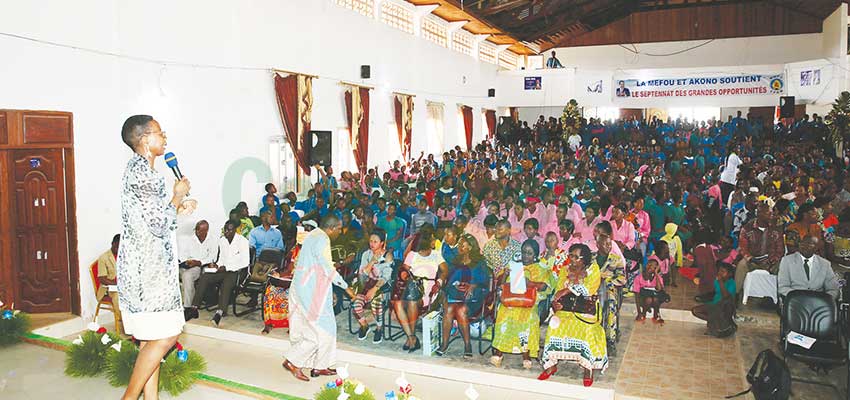 This is in prelude to the launch of the Social Vaccine campaign in the locality today by the Governor of the Centre Region.
In order to fight against Sexually Transmitted Infections (STIs) and the HIV/AIDS pandemic, the First Lady of Cameroon, Chantal Biya has extended her "Social Vaccine" campaign to the locality of Ngoumou in the Mefou and Akono Division in the Centre Region. In prelude to the launch of the campaign, yesterday, April 25, 2019, a team of experts the International Reference Centre "Chantal Biya" for Research on the Prevention and Management of HIV/AIDS (CIRCB) was at Ngoumou to edify the educational community on HIV/STI with pedagogic and ICT tools that will help create awareness among the populations.
During the educational talk that gathered some 400 pupils and students from 10 schools in the division, the Director General of CIRCB, Professor Alexis Ndjolo, told the population that they have come with complete pedagogic kits for teachers to carry out teaching and learning in order to develop basic skills in pupils for the fight against STIs and the HIV/AIDS. The social vaccine, he added, is one of the several actions initiated by the First Lady to improve on the lives of the population. This action, which has been validated by a team of researchers, medical experts, educationists and digital operators, will help reduce the burden of the disease which is ravaging many young people in the Centre Region.
While discussing with pupils and students, facilitators understood they were not dealing with novices when it comes to sex education. The children had clear answers to questions such as What is HIV? What is the difference between HIV and AIDS? What is STIs? How is it transmitted? How to prevent HIV/AIDS? Because sexual relationship does not concern children, pupils were told that they should not play with sharp abandoned objects for this will expose them to HIV or Hepatitis. Students were also encouraged to report situations where they are raped or involved in un protected sexual relationships.
An expert from the Regional office of UNESCO, Dr Bruno Dzounesse schooled teachers on technical guidance on complete sexual education which advocates quality comprehensive sexuality education to promote health and well-being, respect for human rights and gender equality, and empowers children and young people to lead healthy, safe and productive lives.
A demonstration on how to use the male and female condom was also carried out. An expert from CIRCB, Professor Celine Nkenfou joined Prof. Ndjolo in launching the application TICADO which is out to promote screening for HIV/STIs amongst teenagers. The application is found on the website www.ticado.org.
Through the digital tool, teenagers are able to know more about HIV/STIs, information on the nearest health centre they can be screened of HIV/STIs amongst other things. The application was immediately installed for students who had android phones.
Same category