CEMAC Parliament: Hon. Hilarion Etong Elected President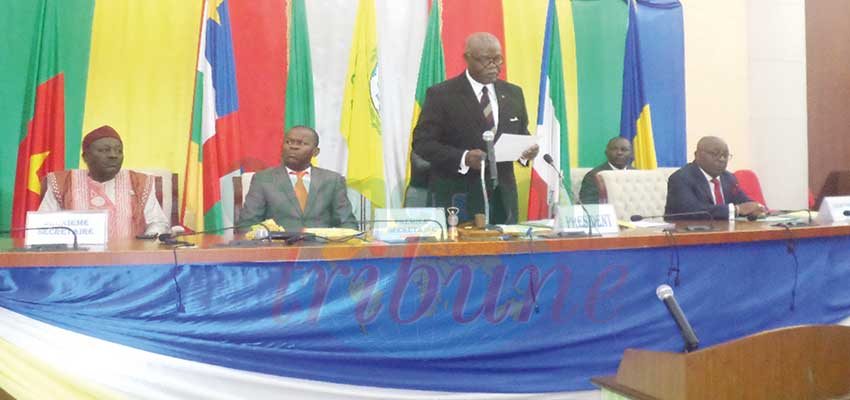 Cameroon's Senior Deputy Speaker was elected during the extraordinary session of the Central African Economic and Monetary Community (CEMAC) Parliament in Malabo on May 3, 2019.
Hon. Hilarion Etong, the Senior Deputy Speaker of Cameroon's National Assembly is since Friday, May 3, 2019, the new President of the Parliament of the Central African Economic and Monetary Community (CEMAC). He will remain President of the Parliament as long as President Paul Biya of Cameroon continues to be the Chairperson of the Conference of the Heads of State of CEMAC following his election during the CEMAC 14th session in N'Djamena, Chad on March 24, 2019. Indeed, the main point on the agenda of the CEMAC Parliament extraordinary session was the election of the President who in accordance with the Convention governing the parliament, had to come from the Cameroonian delegation. The outgoing President Mahamat Ali Kosso of Chad chaired the opening of the session.
This was followed by the putting in place of the provisional bureau headed by the eldest member of the House, Equatorial Guinea's MP, Nsobeya Efuman Nchama Santiago assisted by the First Secretary, Essono Obiang Jose-Antonio still from Equatorial Guinea and the Second Secretary, Hon. Fadil Aliyoum from Cameroon. Then came the decisive moment when the Cameroonian delegation was called up to present the candidate. Hon. Joseph Mbah Ndam did not only call the name of Hon. Hilarion Etong but more importantly presented his succinct rich CV that highly qualified him to occupy the post of the CEMAC Parliament President. After this all the MPs present unanimously acclaimed Hon. Hilarion Etong, after which Hon. Mahamat Ali Kosso immediately handed power to Hon. Etong.
The new President then took his place at the rostrum and continued chairing the session. Message of New President What Members of the CEMAC Parliament went home with is the exhortation of Hon. Etong in his closing speech. He told them to always have in mind the spirit, revisit the principles of parliamentary governance which they share and to revert e...
Same category