Protection of Human Rights: Rights Commission Discusses Accounts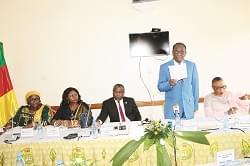 This was during the 26th ordinary session of the Commission that held in Yaounde on May 9, presided by its Chairperson, Dr. Divine Banda Chemuta.
The National Commission on Human Rights and Freedoms (NCHRF) has held its 26th ordinary session in Yaounde during which several issues were examined. Chaired by the Chairperson of the Commission, Dr. Divine Banda Chemuta, stakeholders at the session, which is the first for 2018, examined and adopted administrative and managerial accounts for 2018, discussed the human rights situation in Cameroon and deliberated on the draft budget for 2020.
Dr. Chemuta, who said the meeting was holding in a context where the country is facing many human rights challenges, called on everyone to contribute in protecting and promoting the rights of every citizen.
"Since the last session, we have held four monthly meetings and extraordinary meetings of Presidents and Rapporteurs of Working Groups during which we planned some actions to be undertaken and also discussed many issues concerning our country and our institution. These issues included the socio-political situation in our country, the 2018 annual report, some complaints, the project on improving conditions for exercising freedoms in Cameroon (PACEL) and staff issues," he stated.
With respect to upcoming elections, he noted that the Commission has made several recommendations to improve on elections and accompany the State in its efforts for an effective decentralisation process. "We shall certainly be having important elections this year which are crucial to the decentralisation process which began several years back. We had made several recommendations to improve on elections and we should not desist from accompanying the State in its efforts to set up an effective decentralisation system," Dr Chemuta noted. Eulalia
Same category