Livestock Development : World Bank-funded Project Takes Shape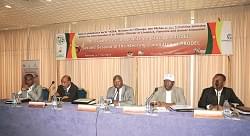 The project was reviewed in a committee meeting in Yaounde on May 7, 2019.
The steering committee for a World Bank-funded initiative known as Livestock Development Project (PRODEL) has met in Yaounde to examine progress made so far in the implementation and chart a way forward. The Minister of Livestock, Fisheries and Animal Industries, Dr Taiga who doubles as president of the committee, chaired the meeting in Yaounde, May 7. It emerged from the meeting that all the preliminary work carried out since the inception of the planned project in 2017 have been completed and everything is set for the project to be taken to the next stage which is implementation on the field.
"The project spans across six years. We held our first steering committee session in 2017 and planed on putting in place all the tools, the coordination unit and other organs of the project, identify sites for its implementation among others. This meeting will enable us to move to the field activities phase. From the month of June, all the activities consisting of field work will take off," Dr Taiga said.
The project is divided into components the first of which is animal health. Within this component, there will be a vaccination campaign for animals all over the national territory. The second component involves assisting poor households and those affected by conflicts. "We are going to do this by providing them with products and enabling them to rebuild habitat for their animals. The third aspect is the setting up of productive projects. This last one entails financing medium and large size enterprises in the livestock sector- it is the main phase that will be implemented in partnership with micro finance institutions," Minister Taiga explained.
To Dr Abouame Sale, National Coordinator of PRODEL, the implementation of the project is one of the concrete second generation agricultural objectives of Cameroon. It is aimed at improving the productivity of targeted production systems and the marketing of their products to selected beneficiaries and providing an immediate and effective response in the event of an eligible crisis emergency.

Same category