Industrial Technical Education : Gov't Launches Project To Draft Textbooks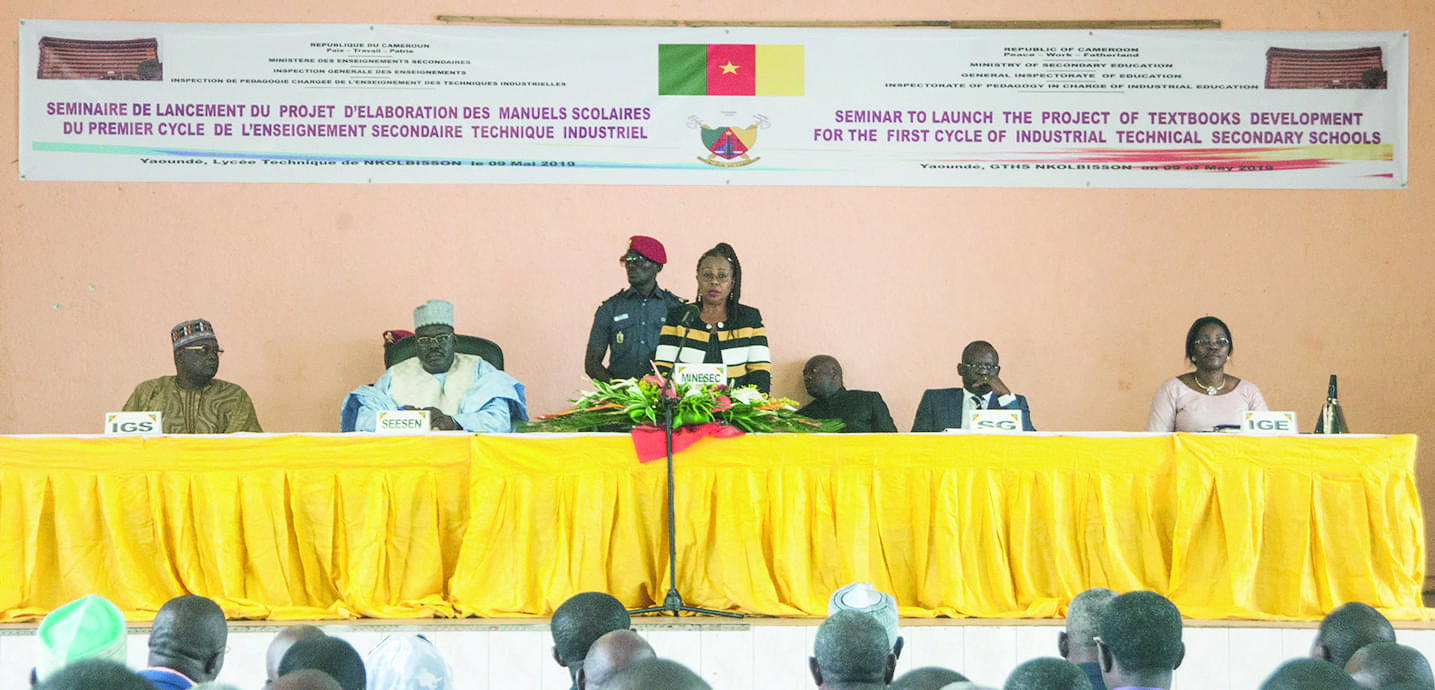 This was during a training seminar in Yaounde by the Minister of Secondary Education on May 9, 2019.
Secondary Education Minister, Nalova Lyonga Pauline Egbe, has launched the exercise of preparing textbooks for the first cycle of Industrial Technical Secondary Education in the country. During the training workshop to launch the project yesterday, May 9, 2019 in Yaounde, Nalova Lyonga said it was part of the continuation of the many initiatives undertaken at the Ministry of Secondary Education regarding the urgent restructuring facing the technical education sector in the country's.
Speaking to participants, the Minister of Secondary Education said it was no news the present educational system in Cameroon was no longer in line with the real and ever-changing needs of the workplace. As such, new training curricula for students in the first cycle of Industrial Technical Education had been drawn up in accordance with the Competence-Based Approach (CBA).
Nalova Lyonga said since the government has opted for a policy of liberalisation, the publishers of Technical and Vocational Secondary Education textbooks, most of whom are based abroad, have very little interest in the Cameroonian book market at this level of education. In addition, the contents of the technical work proposed by some of these publishers are generally out of touch with the contents of the training standards applicable in the national territory.
Consequently, the reason for the training workshop to respond to the urgent need to develop an internal publication supply to meet the need of official lists of textbooks for Technical and Vocational Education. As such, the workshop grouped, amongst others, national and regional pedagogic inspectors for Industrial Technical Education, classroom teachers, textbook-writing teams as well as resource persons, for methodological and content related aspects who have to commit to providing teachers and learners in the 23 specialities of the first cycle of industrial technical education with textbooks in accordance with the CBA and that will respond to the demands of the labour market in order to guarantee the growth and productivity of companies. While keeping in mind that science and technology are changing rapidly, Nalova Lyonga, recommended participants to understand the CBA, humble enough to write a textbook in collaboration with experts abroad and effectively examine how long it will take them to produce a manual for schools.

Same category