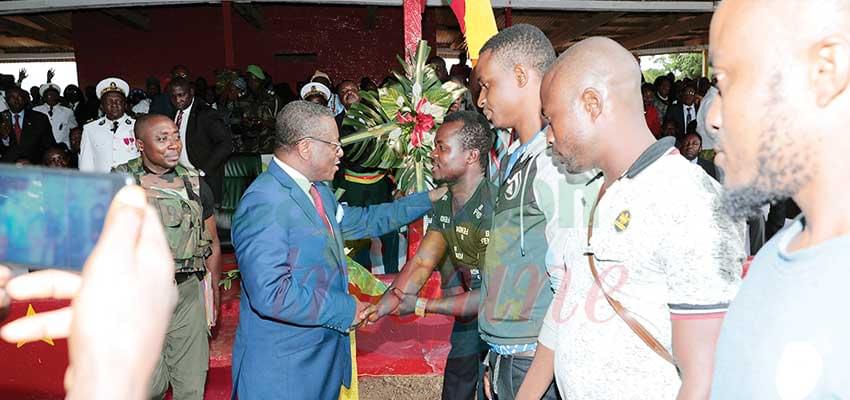 In a fatherly manner he promised them a better life in the various rehabilitation centres and urged others still in the bushes to follow suit.
The third day of PM Dion Ngute in the South West yesterday (16 May, 2019) was divided into two segments of activities. He spent the morning period in Kumba, Headquarters of Meme Division, before rushing back to Buea to continue with regional audiences. While in Kumba, the PM and Head of Government delivered his soul-touching peace message to the population of Kumba at their ceremonial ground amid a huge crowd. He urged separatists' fighters to lay down arms and regain a normal life in any of the centres for rehabilitation and disarmament. This he explained would pave the way for the dialogue promised by the Head of State, President Paul Biya.
22 Surrender from the bushes
The PM saw his peace mission succeeding all the more when he received some 22 young persons who were presented as having laid down arms and surrendered for peace. The PM exhorted them to be good citizens and said they were going to be rehabilitated and offered a new life condition that would rekindle hope for them. The Head of State's envoy told the audience that a special recruitment of the youths from the bushes into the forces was in view to better their living conditions and to dissuade them from violence.
Barombi Kang stop-over
A warm crowd took to the Kumba City entrance of Barombi Kang in the early hours of yesterday to receive the Prime Minister who breezed in from the Regional Headquarters, Buea, into the Green City of Kumba. On hand to receive him was the Senior Divisional Officer for Meme, Ntou'ou Ndong Chamberlin who led his command staff to welcome the Head of Government. While traditional rulers dressed the PM as their peer in Barombi Kang, many rushed to the ceremonial ground where the PM was scheduled to address the public of Kumba.
Kumba District Hospital Visit
The august guest went to see for himself the District Hospital that was burnt down on 11 February, 2019, by unidentified armed groups leaving hundreds of thousands of users across Meme Division in despair. The PM announced that the hospital would be rebuilt incessantly to continue to deliver healthcare to the needy in Meme Division and beyond.
Company
Throughout his visit in the South West Region, the PM has been accompanied by several person alities and members of Government of South West extraction including Minister Dr. Nalova Lyonga of Secondary Education, Minister Delegate, Paul Tasong of MINEPAT, Minister Deputy Secretary General at the Presidency of the Republic, Elung Che Paul, Minister Arrey Mengot, the South West Governor, Bernard Okalia Bilai, the Coordinator of Disarmament and Rehabilitation Centres, Fai Yengo Francis, CDC's General Manager, Ikome Njie Franklin, and former PM, Peter Mafany Musonge.
Audiences at Kumba City Council
The visiting PM received the press men and women based in Kumba to whom he insisted that their pens and microphones could destroy or build the nation. He reiterated the need for patriotism and unity of purpose for an indivisible Cameroon which can well be enhanced by the press. The Head of Government granted many other audiences at the City Council hall in Kumba with the verve to dig out the facts that could be tabled to the Head of State for him to better organize the expected Dialogue forum
Same category