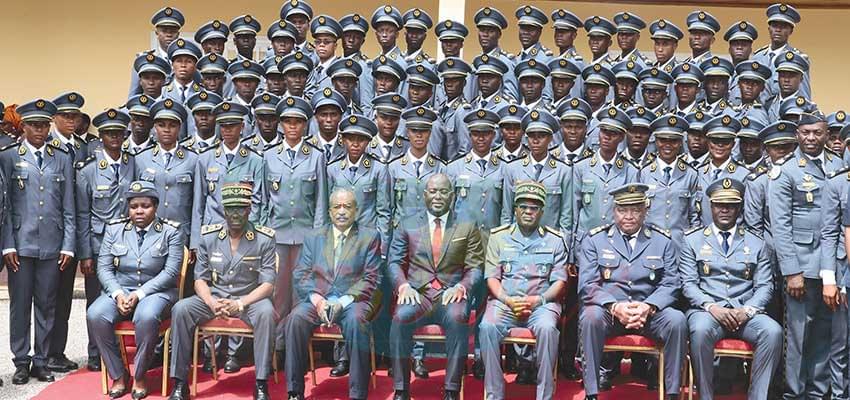 They received epaulets at a graduation ceremony in Yaounde on May 24, 2019.
The National Gendarmerie corps now has an additional 307 officers. They received epaulets at the Military High Command for Training in Yaounde on May 24 in a graduation ceremony chaired by the Secretary of State in charge of the National Gendarmerie, Galax Yves Landry Etoga. The non-commissioned officers graduated after 27 months of training. They were raised to the rank of Sergeant upon graduation through a decision signed by the Minister Delegate at the Presidency in charge of Defence, Joseph Beti Assomo, which was read out at the graduation ceremony.
Adressing the graduates, the Gendarmerie boss, Galax Yves Landry Etoga, noted that he has confidence in the skills they have acquired after spending 17 months in the military training facility in Koutaba and eight months in Yaounde learning law and how to handle complex investigations. He told them that the graduation was a special moment in their free, honourable and respectable decision to serve the country with honour and loyalty. He told them they will be sent to different units of the National Gendarmerie where they would face the hard realities of their job. He noted that they are joining the force at a time when the services of forces of law and order are more than ever required as the country is faced with armed conflicts and kidnappings in the Far North, North, East, North West and South West Regions. He reminded the soldiers of their utmost duty, which he said is to defend fatherland and republican institutions even at the expense of their lives. He also urged them to serve the nation respecting ethics and deontology, probity and show proof of discipline. Galax Etoga equally promised zero tolerance towards irresponsible behaviour, noting that cases reported through the toll-free number (1501) would be handled accordingly.
Ymelda Tchokote Singha, best student of the batch which is the sixth of its kind, told CT that acquiring the physical, moral, mental, intellectual and operational fitness to carry out their duty required both collective and individual commitment. "I am happy that all of us completed the training as nobody dropped out along the way. Despite the hard tasks, I hard to focus on my objectives and keep my mind on the course. Today I am happy I made it," she said.

Same category