Wildlife Conservation: Where 'Pandas' Fetch Fortunes!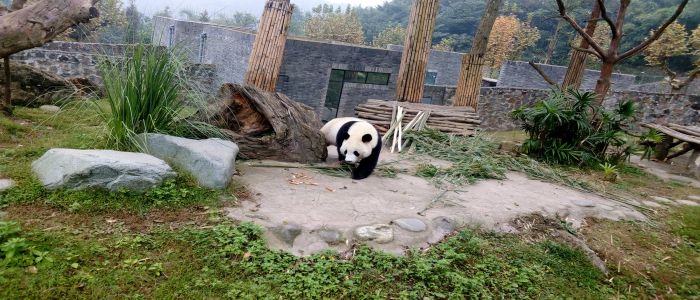 The rare animal specie attracts millions of tourists to conservation zones in Sichuan province and serves as impressive source of revenue for the high-tech prone province of China.
Conserving wildlife especially endangered specie which may not be given utmost importance elsewhere has proven to be a great economic purveyor in Sichuan Province of China. Talk of Dujiangyan Base of China's Conservation & Research Centre for Giant Panda and tourists who throng the area everyday would readily narrate their encounters with the rare animal. Experts say over 80 per cent of the world's pandas are in conservation zones in Sichuan.
And the meticulous conservation efforts of the centre consisting in rescuing, feeding and management of over 40 giant pandas keep the animals healthy and thus attractive to tourists. The peaceful creature with a fine distinctive black and white coat is revered in Dujiangyan Base of China's Conservation & Research Centre and many Chinese liken the animal to "national treasure and a symbol of Chinese friendship to the rest of the world." The rarest member of the bear family, wildlife experts say, live mainly in bamboo forests high in the mountains where they subsist almost entirely on bamboo.
The animal invariably forms a core part of the rich tourism industry of Sichuan province. Thanks to that and other cultural and historical sites in the province like the Dujiangyan Irrigation System, Mounts Emei and Qingcheng as well as the Ancient Shu civilization with irresistible Sichuan Hot Pot cuisine, the province is easily likened to a tourism haven in China. This is more so as the province equally boasts of five world Natural and Cultural Heritages comprising Jiuzhai Valley Huanglong Scenic Area, also hometown of giant pandas.
As the second most populated province in China (over 91 million) after Guangdong, these tourism sites attracted 590 million domestic tourists to Sichuan in 2015 and contributed greatly in propelling the province to the country's sixth spot in terms of growth with a Gross Domestic Product (GDP) of three trillion RMB.
Beyond tourism, Sichuan is also home to high-tech giants in China thanks to her strong scientific and educational prowess. This is bolstered by 5 colleges and universities, over four million fine talents and over 20 million labour force with competitive professional skills. Coupled with specialized industries in equipment manufacturing, oil and gas, chemical engineering, automobile manufacturing among others, Sichuan has witnessed emerging industries especially in information technology, high-end equipment and renewable energy.
These and other potentials were sold to the world during the 16th Western China International Fair in Chengdu. It featured investment promotion and trade cooperation with diverse goods.
Same category