Unity Palace: "Les Coccinelles" Pupils On Holidays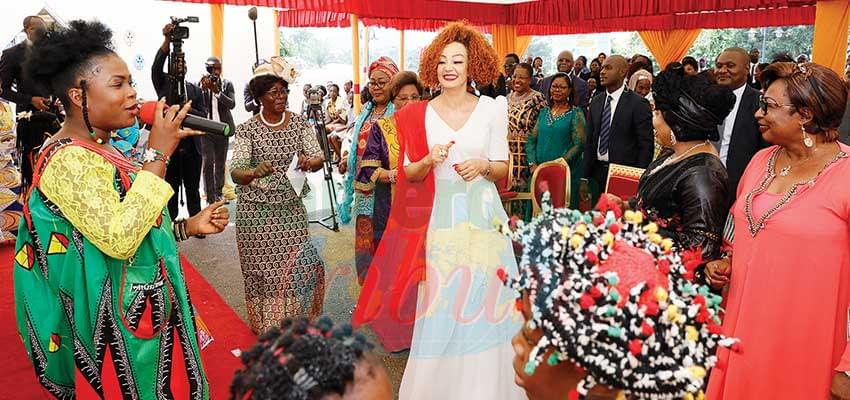 During festivities to mark the end of the academic year, June 18, 2019, the educational family announced their brilliant performances to the matron, First Lady, Chantal Biya.
After three terms of intensive educational activities, pupils of the "Les Coccinelles" Nursery and Primary School Complex of the Unity Palace, have proven to their matron, First Lady, Chantal Biya and parents that they have fully assimilated what they have learned in the classrooms. In a traditional feast to mark the 2018/2019 academic year, chaired by the First Lady, Founder of the School, yesterday June 18, 2019, the pupils thrilled their audience in songs, recitations, poems and ballets to express the joy of holidays, gratitude to their teachers and matron, and a fervent wish for a better Cameroon where everybody lives in peace, love and harmony.
Read also :
Coopération Cameroun – France : visions partagées
The arrival of the First Lady, Chantal Biya, paved the way for an over two-hour displays of what kids know how to do best. That is, singing and dancing. The singing of the national anthem and the proclamation of the academic results by the Head Teacher, Guillaume Mpouenanga, signalled a joyful feast especially as all the classes scored 100 per cent. More to this, is that the school was also commemorating its 19th anniversary. Attributing the good performance of the pupils to a fruitful collaboration between the teachers, pupils, parents and most especially the matron of the school, the Head Teacher, called on their august guest to enjoy each moment with them.
Read also :
Cameroon-France : Exemplary Development Partners
The local artist, Aunty Clo, immediately joined the kids in a song praying for the nation, Cameroon. Dressed in traditional regalia from the grass field regions, with a peace plant in hand, Aunty Clo and the pupils, prayed for peace and love amongst citizens in the country. The called for peace and harmony was again buttressed by the kids, this time with the local artist Mervy Willy's in the song "Main dans la main. Through the song, the pupils said to build the nation, there is need for agreement and dialogue. On behalf of Cameroonians, "Les Coccinelles" pupils said everybody should work hand-in-hand for peace and unity in the country. The event was an ideal moment for the kids to wish their matron a lovely mother's day and tell her, how much she was a blessing to them. Although it is time for the "Les Coccinelles" educational family to enjoy a period of rest from school activities, while spending more time with family, they called on everybody to keep the love burning. It should be recalled that class six pupils of the school scored 100 per cent in the Common Entrance Examination and there is hope that they will score 100 per cent at the Certificat d' Etudes Primaires (CEP) the equivalence of First School Leaving Certificate Examination. Before taking leave of each other, the First Lady inspected the academic works of the pupils and also enjoyed a common meal with everybody present
Read also :
Relance des projets Mbalam et Nabeba : une volonté de fer
Same category