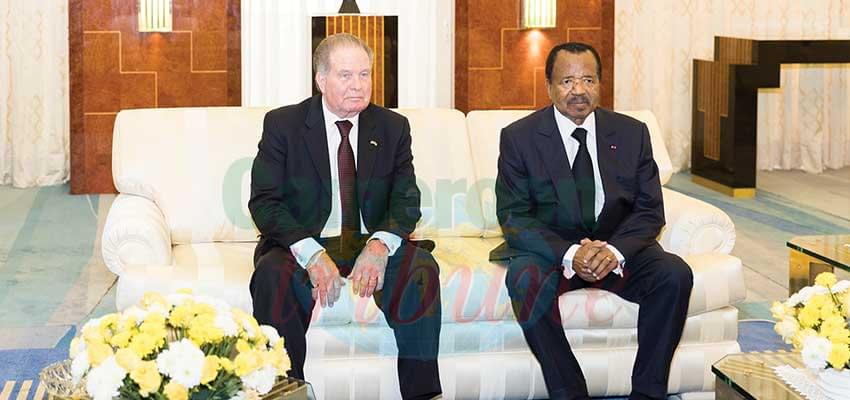 President Paul Biya on July 25, 2019 had talks with the Chief Executive Officer of the company, Mike Mason.
The American-Canadian company, Geovic Mining Corporation that had started mineral exploration in Cameroon wants to bounce back to mine cobalt, nickel and manganese at the Nkamouna site in Lomie Subdivision of the Upper Nyong Division in the East Region.
Read also :
Coopération Cameroun – France : visions partagées
Mike Mason, the Chief Executive Officer of Geovic in a Unity Palace audience with President Paul Biya in Yaounde on July 25, disclosed the readiness of the company to invest in the cobalt and nickel mining in Cameroon. What the company officials need is just the signing of some documents for the project to start. The project, Mike Mason said, would run for over 40 years in Cameroon. It will recruit 700 full time workers and provide 2,000 indirect jobs.
Read also :
Cameroon-France : Exemplary Development Partners
Geovic is not a new name in the Cameroon mining sector. On July 31, 2002, Geovic and Cameroon government officials signed a mining convention. Its Article I stated that, "This Convention, supplemented by its Annexes which are part and parcel thereof, lays down the reciprocal rights and obligations of the Parties. It defines the general, legal, financial, tax, economic, administrative, customs, social, land and environmental conditions under which GEOVIC or any other person to whom GEOVIC may transfer all or part of the rights and obligations granted to it under this Convention, shall undertake the mining of cobalt, nickel and their associated substances whose exploitation area is outlined in the above-mentioned exploration permit." Reports say in April 2003, Geovic received the first mining permit. This gave the greenlight for the company to swing into action. It had a local affiliate, Geovic Cameroon. Geovic Cameroon had an office in the Bastos neighbourhood of Yaounde. The company put up structures on the mining site. Reports say in 2013 Geovic stopped activities.
Read also :
Relance des projets Mbalam et Nabeba : une volonté de fer
Same category