Media and Sustainable Development : Where lies the Task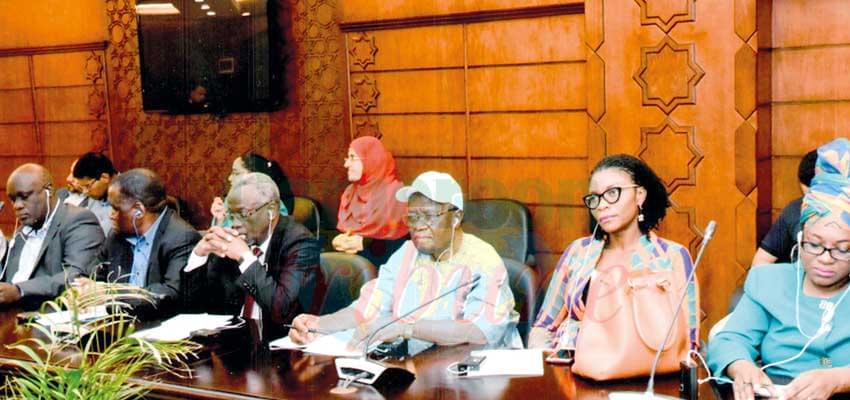 For any Development Project to be sustainable, human and physical resources on which it depends must be viable. Infrastructure should be available, adequate, and reliable.
Read also :
Why Kangaroo Is Preferred Over Incubator
For any Development Project to be sustainable, human and physical resources on which it depends must be viable. Infrastructure should be available, adequate, and reliable.
Read also :
Hajaratou Aliou: "Kangaroo Kindled, Restored My Hope"
Human resources need to be well – equipped to render viable the physical resources whose viability is needed for the attainment of goals. Furthermore, for development to be sustainable, it is important for personnel to be professionally competent to know what is at stake and how to accomplish tasks.
Read also :
Who Qualifies For Kangaroo?
In this light, the people behind the development projects need to know the importance of what is being undertaken, who is best placed to do what, and how it can be done to succeed.
Read also :
Habiba Ousmane: "I Taught Kangaroo, Then Lived It"
Without knowledge of what is being done to attain goals and how to go about it, funds and labour could be wasted. Worse, very little or nothing would be achieved. This explains why besides general education, specialized courses are offered to prepare human resource for various fields of service.
Read also :
Premature, Low Birth Weight Babies: Kangaroo Slashes Mortality By 50 Per cent
Catalyst
Read also :
Vaccin contre le Covid-19 : le feu vert de la Cemac
It is important to note that after formal education in classrooms, acquisition of knowledge continues through the use of the (media, print and electronic,) seminars, workshops, and conferences. Considering the role of the press as one of the powers in the realm of governance, it is in fact, indispensable in sustainable development. Hence, it should be well-managed by media professionals who should be trained to serve with commitment.
Read also :
Evolution Of Covid-19 : Over 1,607 New Active Cases
Since the media face the important task of informing adequately and objectively, explaining and sensitizing, what is gathered, processed and disseminated should be carefully handled, so that messages can reach target audiences.
Read also :
Usage responsable des réseaux sociaux : la campagne nationale à Soa
People for example, have to know why certain projects are being undertaken, or given priority in development. What is needed to attain goals and contributions expected from them for to development should be made known and minds sensitized to join in what is being undertaken. They need the means of getting this knowledge and who doubts the role of the press?
Read also :
Aménagement des communes : de l'eau potable à Nkoteng
Through the media, the public is educated on the importance of partnerships, cooperation and the incentives of effective production. It is also through the press that the public is taught the importance of transparency in management, efficiency, and how to mobilise workers to acquire skills necessary for fruitful results.
Read also :
Imposture : Four Suspects Apprehended
Through the media the public is also informed about the dangers of corruption, tribalism, embezzlement, fraud, inertia, laziness, cheating and lack of duty – consciousness in stewardship. These, it must be made clear, are the stumbling blocks to developmental efforts.
Read also :
« Nous avons un centre dans chaque région »
At the Cameroon Tribune, (Cameroon's bilingual Daily), besides playing the role of informing and entertaining through our various publications, press men in their, editorials, commentaries, investigative reports, analysis, and special reports, educate the masses to be aware of what is being undertaken in their interests. Through this, the masses also learn to contribute their quotas towards developmental projects being undertaken.
Read also :
Amélioration de la prise de décision : le rôle-clé des statistiques en santé
Target Audiences
Read also :
Région de l'Est : opération villes propres
In media mobilization for development, the target audiences are decision makers: parliamentarians, members of Government, councilors, managers, contractors, entrepreneurs, the judiciary, traditional authorities and the labour forces in all professions.
Read also :
Yaoundé-Bafia-Makenene : la gendarmerie aux radars
Youths, women, the girl child, the elderly, and even handicapped are important, considering their various contributions to development and the challenge to develop their skills. Professionals in all walks of life have to know what is expected of them when it comes to contributing to development.
Read also :
« Nous ne disposons pas de loi sur la protection des données »
Education and its importance to the nation should be stressed not only to those in school, but also to parents and guardians. In order to demonstrate the importance attached to the education of masses, government invests not only in educational infrastructure and professional schools, but also in media infrastructure that make possible the training of professionals. To be effective in this, the press should be free to educate objectively and adequately. It should play the role of a watch dog of the society in general, and target audiences in particular.
Read also :
Réseaux sociaux : la fusion WhatsApp-Facebook inquiète
This is also considered very important because ignorance or lack of information constitutes one of the setbacks to development in several ways. For, without educational infrastructure at primary, secondary and higher levels, we cannot boast of human resources that have been adequately equipped to handle tasks assigned.
Read also :
Yaoundé : retour au calme au marché Mokolo
In all this, we should note that after formal education of human resources within the four walls of classrooms, the rest of the learning process, continues through the media, workshops and seminars organized at national and international levels. Citizens concerned with development at all levels must continually mobilise themselves through learning, the media of information being indispensable.
Read also :
Yaoundé : l'opération « CHAN sans Covid-19 » lancée
Whereas a lot can be acquired through the media, much of what can be achieved depends on the individual who after having appreciated what is invested in his interest and that of the nation, should make the best use of what is available to make development sustainable.
Read also :
Covid-19 en Afrique centrale : réflexion sur le vaccin
Print Media Challenges
Read also :
Ngaoundéré : 143 actes pour des candidats au CEP
Even though the print media is today being threatened by the technological developments in the electronics, in general, and digital communication in particular, the printed word is so indispensable in communication that its role in mobilization cannot be doubted.
Read also :
« Des orages côtiers peuvent être fréquents »
Whether it is used in newspapers, bill boards or flyers, the printed word is important not just because it can be easily consulted without the use of secondary means, but also because unlike the spoken word, that cannot be recalled, it's role is advantageous in many other ways.
Read also :
Université-entreprise : une opportunité pour Dschang
As far as development is concerned, the print media are vital because users after getting information or mobilization from radio and television, and online through the internet, one can still go back for other details by consulting what was recorded in print.
Read also :
Retard de paiement des frais aux examens officiels de l'OBC : des candidats à l'épreuve des pénalités
In spite of its vital role, the print medium of communication is threatened by the rising costs of newsprint, printing machines, ink and spare parts for repairs. But all is being done keep the printed word in play and viable in usage.
Read also :
Hôpital gynéco-obstétrique et pédiatrique de Yaoundé : les aurevoirs du Pr. Angwafo III
In the face of these challenges and indispensability, of the print media, publishers have to work hard to invest in modern printing presses that are fast producing quality material.
Read also :
Nouveaux variants du Covid-19 : rien à signaler au Cameroun
On the whole, the challenge is for media professionals and investors to know the needs of the public and how to satisfy consumers, through efficient and effective gathering, processing and dissemination of material, needed for development.
Read also :
Fonction publique et Réforme administrative : la digitalisation au cœur du service
Same category