Eseka Train Accident : Victims Receive President Biya's Assistance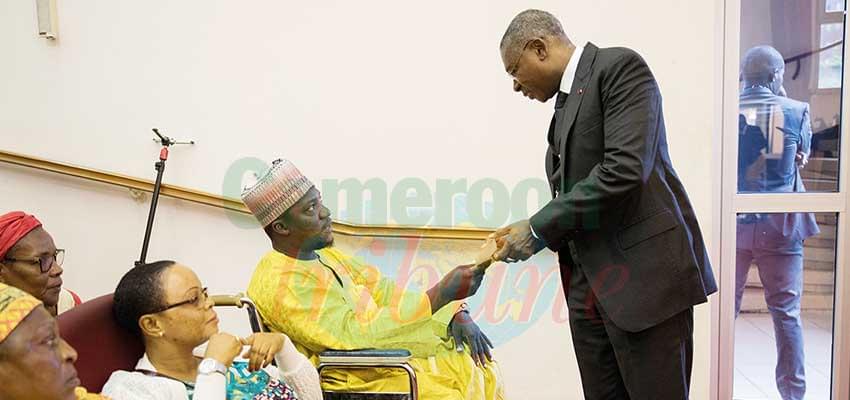 The financial assistance amounting to FCFA 666, 833, 700 was handed to the victims on August 9, 2019 at the Prime Minister's Office in Yaounde.
Hundreds of victims of the train accident that occurred at Eseka in Nyong et Kelle Division of the Centre Region on October 21, 2016 have been cashing their cheques amounting to FCFA 666, 833, 700 that represent the remaining part of the one billion Francs CFA humanitarian solidarity and complementary assistance given by the Head of State, President Paul Biya.
Read also :
Power Supply : Turkish Company Proposes Low-cost Electricity
On October 3, 2018, the first part of the assistance was given to the relatives of victims who died or were declared missing.
Read also :
Développement local : près de 28 milliards de F pour Bertoua
The Minister, Secretary General at the Prime Minister's Office, Séraphin Magloire Fouda chaired the cheques handing over ceremony in the presence of some cabinet ministers and other dignitaries. He said the accident killed 79 people, six declared missing and over 800 other people were injured. On October 25, 2016, the President of the Republic created a Commission of Inquiry placed under the authority of the Prime Minister. The Commission's mission was to determine the causes of the accident, propose measures to reduce the risks of the occurrence of such accidents in future, establish responsibilities of the actors involved and to evaluate the management of the disaster. After taking cognizance of the report presented by the Commission, the Head of State prescribed a series of structural measures to government that are progressively put in place.
Read also :
Exécutifs régionaux : le temps du travail
The Head of State, Séraphin Magloire Fouda said, parallel to the measures and in demonstration of compassion to the affected families, decided to give a complementary assistance of one billion francs CFA to the accident victims and their next of kin. The Prime Minister for the sake of efficiency put in place an Ad hoc Committee to manage the assistance. The Ad hoc Committee identified the victims and classified them so as to determine the criteria of distributing the financial assistance decided by the President of the Republic.
Read also :
Adamaoua : les choses sérieuses commencent
It was thanks to the work of the Ad hoc Committee that the last part of the distribution of the assistance took place at the Auditorium of the Prime Minister's Office on August 9, 2019, the same venue where the first one took place. Minister, Séraphin Magloire Fouda set the ball rolling for the symbolic part of the event as he handed the cheque to one of the victims and was followed by other officials
Read also :
South West : Officials Begin Effective Work
Same category