Obsequies : Super Makia Decorated Posthumously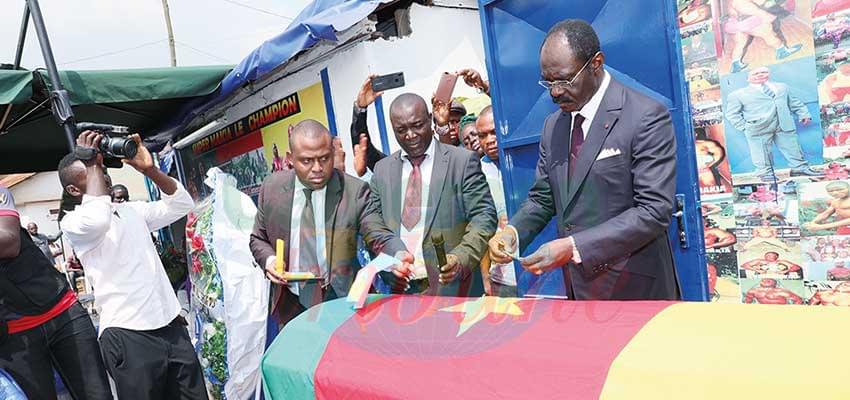 The late sports hero was elevated to the rank of Commander of Cameroon Sports Merit considering his exploits in the wrestling world.
Jacob Mbeng Makia, the late Cameroonian legendary wrestler fondly called Super Makia who died on August 1, 2019, was buried in his residence at the Dakar neighbourhood in Yaounde on Saturday, August 17, 2019. Friends, relatives and sympathisers thronged the venue to bid farewell to the fallen sports hero.
Speaking at the official funeral ceremony the Minister of Sports and Physical Education, Narcisse Mouelle Kombi, representative of the Head of State expressed condolences of the people of Cameroon to the family. He said Super Makia has left a special sports mark to the national sports movement in general and professional wrestling in particular. Minister Narcisse Mouelle Kombi regretted the fact that the death of Super Makia is a great loss for the country as well as the young general which he was preparing for the future.
Narcisse Mouelle Kombi decorated the deceased posthumously with the medal of Commander of Cameroon Sports Merit. Several eulogies were made in memory of Super Makia. Amongst them was the Secretary General of Pro Wrestling Africa (PWA), Olusesan Olukoya who described the former President of PWA as not just a wrestler but a professional wrestling advocate, manager, promoter, administrator, crusader, consultant and whatever involves the grunt and groan of the game of professional wrestling. He said PWA, the mouth piece of pro wrestling game in Africa, would endeavour to immortalise his name in the Pro Wrestling world in their own ways considering his exploits in the wrestling world.
The burial programme was preceded by coffining at the Yaounde Teaching Hospital mortuary and sports homage at the Yaounde Multipurpose Sports Complex on Friday August 16, 2019. Present at the funeral were authorities of the Centre Region, the Yaounde III Subdivision, several former African Professional wrestling champions, athletes and mourners.

Same category