CHRACERH : Hospital Delivers Its 148th Baby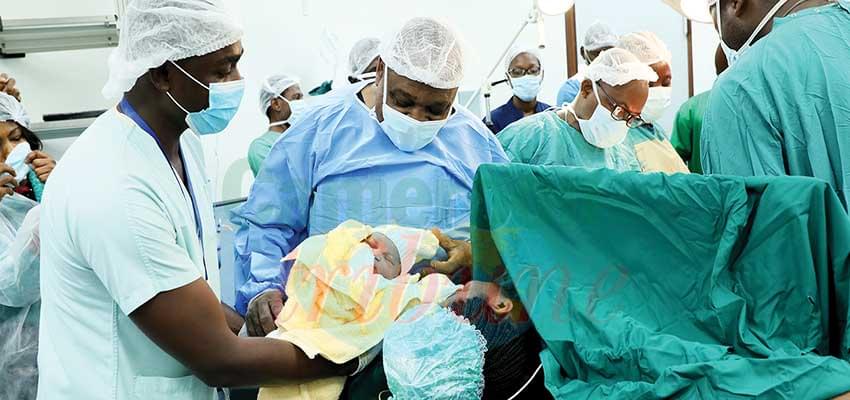 With the birth of a baby girl yesterday, August 27, 2019, via IVF, the institution is within its three-year objective of 50 babies per-year.
At the Operating Room One of the Applied Research, Endoscopic Surgery and Human Reproduction Hospital Centre (CHRACERH), on August 27, 2019, the cry of a baby girl was heard after a caesarean-section that lasted about an hour. It was at exactly 9:53 AM when the 148th baby was born at CHRACERH amid joy of a successful pregnancy obtained through In Vitro-Fertilisation (IVF).
Special about the baby girl with weight 3,710 grams (above three kilograms) and height 48 ans is the fact that she is the 148th baby the hospital is bringing forth within its three-year plan of 50 babies per year. According to the Administrator, Director General of CHRACERH, Professor Jean-Marie Kasia, the arrival of the baby, falls within the hospital's objective of 50 babies per year since its creation three years ago. According to him, they need just two more babies, and he is certain they will attain their objective because they still have more women that are pregnant and will need to deliver before the end of the year. For now, the medical team does not want to be certain about statistics until when the women have been delivered of their babies. In this light, some nine more women who conceived through IVF are still in the waiting.
Talking about the new born baby, Prof Kasia explained that it was an issue of mixed infertility. The lady, Fabrice Stephanie, had a problem of blocked tubes, while her husband had a problem with his sperms. "We had no options but to carry out an IVF to obtain the pregnancy which has resulted in the birth of a baby girl", Prof Kasia noted. He explained that the 35 year-old-lady, has never had a child, but has been wishing to be pregnant for over 10 years in marriage. The pregnancy was without any major problem. But Prof Kasia said they had to proceed with a caesarean-section to deliver the baby because she was a big baby and the lady was giving birth for her first time. As such, the medical team could not allow her to deliver through the normal route. The medical team had to take all the necessary measures for the lady to have her baby, which came to pass. On the surgical bed, the new mother expressed immerse joy while thanking the medical team especially God almighty, for the gift of a child. Besides IVF services, the head of the medical team at CHRACERH used the opportunity to reiterate that at the hospital, they offer many other services to Cameroonian women especially when it comes to cancer related illnesses because the hospital has the possibilities of treating cancer related problems such as cervical, ovarian, uterine and breast cancers.
Same category