DRC: Government Bans Opposition March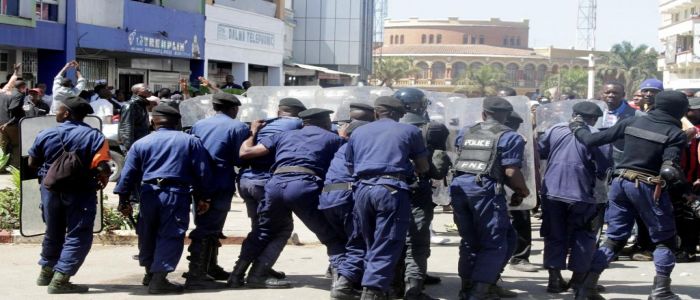 Etienne Tshisekedi's UDPS party on Saturday, November 19, 2016, tried to organise two protests in the capital Kinshasa and Lubumbashi.
A section of the opposition in the Democratic Republic of Congo, DRC, is still to come to terms with the recent deal that allows President Joseph Kabila to remain in power for two more years until the holding of next polls. The party of veteran opposition leader, Etienne Tshisekedi, on November 19, 2016, tried to hold protest marches in Sainte-Thérèse Square in the capital, Kinshasa and the provincial town of Lubumbashi.
Radio France International, RFI, reported that the authorities did not give permission for the protests. Instead, they organised football matches where the rallies were scheduled. Provincial Police Commissioner, Gen. Kanyama, told journalists that he came to watch a non-violence tournament at Sainte-Thérèse Square and hand over the cup to the winner. As early as 10 am local time, police had taken up position around the square as opposition youth who were readying for the rally were prevented from going ahead.
At the end, no rally held and a few opposition militants were picked up. Meanwhile, the home of Etienne Tshisekedi was cordoned off by regular and military police. Colonel Mwanamputu Empung, spokesman for the police, warned journalists to keep off, saying the residence was a no-go area. There was also heavy deployment of security forces in the Tshisekedi stronghold of Mombele. UDPS Secretary General, Jean-Marc Kabund wa Kabund, said the response of the authorities was evidence that they were afraid of the people. "They are trying to intimidate our supporters," he said.
In Lubumbashi, the authorities stopped the protest from going ahead. Gabriel Kyungu of the opposition Unafec party told RFI on phone that he tried to get to the venue of the rally, but was stopped by a Colonel.
Same category