British Parliament Suspended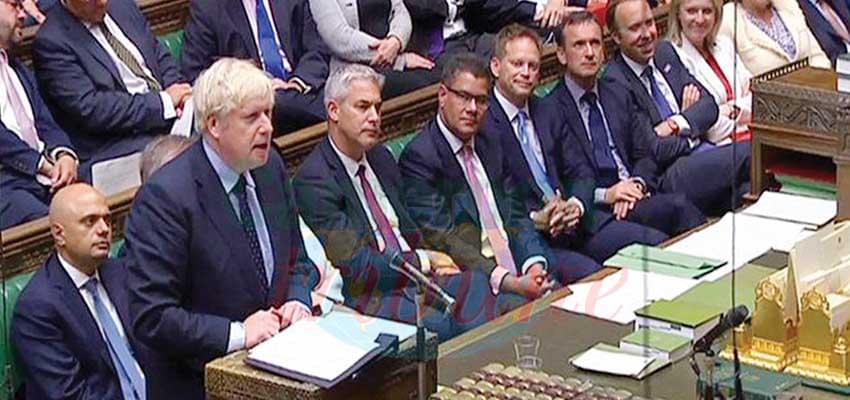 The lawmakers have been given five-weeks off after a tense parliamentary session.
Afew weeks ago no one could predict with exactitude the dramatic events that were to unfold in the British Parliament. With Theresa May out after a series of set-backs with regards to Brexit, Prime Minister Boris Johnson took the command seat in July 2019 with the aim of pulling his country out of the European Union no matter the odds. But his ambitions have turned out to be a simmer showdown with the Parliament.
Within two weeks, lawmakers have succeeded in delivering three defeats to his government before being sent home on Tuesday, September 11, 2019 for a contentious fiveweek prorogation of the legislature. Though the Scottish Court earlier ruled that the decision by the P M to suspend the Parliament is legal, many lawmakers are dumbfounded with regards to the timing especially the House of Commons Speaker, John Bercow who expressed his displeasure, "This is not a standard or normal prorogation". He argued. Before the forceful recess, Parliament during the session enacted a law blocking a "no-deal" Brexit next month. The block applauded by most lawmakers who fear a no-deal would be economically devastating to the country implies, P M Boris Johnson cannot go ahead with plans to take Britain out of the European Union, while the lawmakers can comfortably table a bill calling for a delay beyond the October 31, 2019 deadline.
Johnson wanted a snap election by October 15, just over two weeks before the scheduled October 31 date for Brexit. But opposition parties said they won't support an election until Britain has secured a delay to the Brexit date, to ensure the country does not crash out of the bloc without a deal. Despite the refusal by lawmakers, an election was conducted and though 293 of the 650 House of Commons members backed the proposal, it was far short of the two-thirds majority needed. Apart from being stopped from calling early elections, the House of Commons also demanded the British government to hand over communication among officials about its decision to suspend Parliament and its no-deal Brexit plan. Lawmakers passed a motion calling on the U.K. to release, by tomorrow, Wednesday, September 12, 2019 "formal or informal" emails and text messages between aides and officials relating to the suspension. Under parliamentary rules, the government is obliged to release the documents. Meanwhile, the British Prime Minister, who is on a visit to Dublin, has said, he believes a deal could be struck by October 18, when leaders of all 28 EU countries hold a summit in Brussels.
Same category