Gruesome Murder In Guzang : Minister Orders Befitting Burial For Victim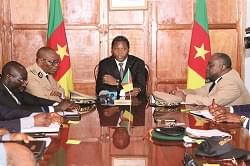 Paul Atanga Nji gave the instructions to administrative and security officials of the North West Region during a security coordination meeting, Thursday September 19, 2019
The Minister of Territorial Administration, Paul Atanga Nji has called on administrative and security officials of the North West Region to track down armed separatists seen shooting a woman before burying her alive in a video widely circulated on social media. The incident which is said to have happened on Monday September 16, 2019, in Guzang in Batibo subdivision sparked outrage.
Read also :
Power Supply : Turkish Company Proposes Low-cost Electricity
While chairing a security coordination meeting in Bamenda, Thursday September 19, 2019, Minister Atanga Nji tasked the Governor of the North West Region to do everything possible to apprehend the murderers and bring them to justice. He also urged the authorities to locate where the lady was buried in a shallow grave and exhume the corpse. Once the corpse is exhumed, a befitting funeral and burial should be accorded to the victim, the Territorial Administration Minister ordered. A minute of silence in honour of the departed lady was observed. The Minister also called for increased vigilance and requested that security should be heightened in hotspots in the restive region like Batibo which he said is being transformed into a sanctuary.
Read also :
Développement local : près de 28 milliards de F pour Bertoua
Thursday's security meeting was also an opportunity for the Minister to call on civil administrators to carry on with broad-based consultations in view of the Major National Dialogue put in place by the Head of State. "The consultations should be done at regional, divisional and sub-divisional levels. Everyone should be brought on board as the dialogue is going to be very inclusive," he said. Atanga Nji's visit to Bamenda was also marked by the distribution of relief materials to some internally displaced persons seeking refuge in Bamenda. At the esplanade of the North West Governor's office, the victims of the ongoing socio-political crisis in the North West and South West Regions received matrasses, blankets, rice, cooking oil, sugar, laundry soap, can food and toiletries
Read also :
Exécutifs régionaux : le temps du travail
Same category