Indomitable Lions : Conceiçao Officially Takes Command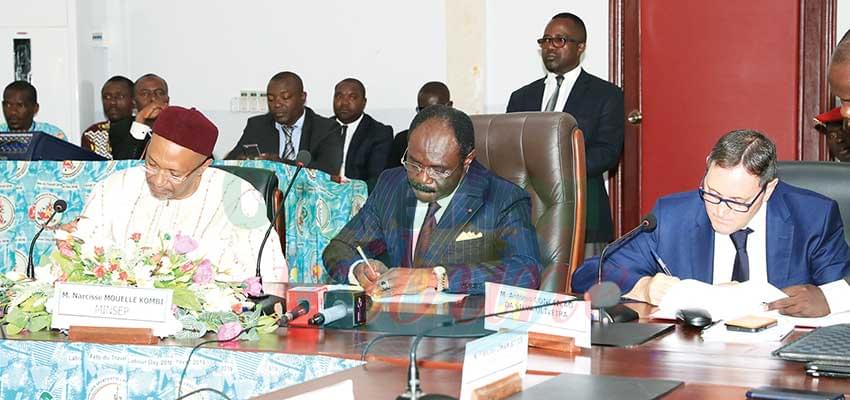 The contract signing ceremony of the new coach of the Indomitable Lions and other members of the technical bench took place in Yaounde on Friday October 4, 2019.
It was an exceptional day at the Ministry of Sports and Physical Education on Friday October 4, 2019. The event was the contract signing ceremony of the Head Coach of the Indomitable Lions, Portuguese-born Antonio Coceiçao Da Silva Oliviera, and other members of the technical bench. Hundreds of fans of the national team thronged the conference room of the ministry to watch the historic moment. Outside, sounds of trumpets and drum beats filled the air as a way of welcoming the new coach and the technical bench.
Read also :
Jeux olympiques : fin de parcours pour Arrey Sophina
Speaking at the occasion, the Minister of Sports and Physical Education, Narcisse Mouelle Kombi, said the task of the new team is to win the 2021 AFCON in Cameroon, qualify Cameroon for the 2022 World Cup in Qatar, and improve the Lions' ranking on the FIFA ranking. He insisted that the love for country should be the Lions' guiding word and not the love for money. Narcisse Mouelle Kombi stressed that the selection of players for the national team should be based purely on merit. He called on the coaches to improve the quality of the game of the national team and save the image of the team.
Read also :
CAN TotalEnergies 2021 : l'aéroport de Yaoundé-Nsimalen paré !
The contract form was signed by the coach, Minister of Sports and Physical Education and the President of FECAFOOT, Seidou Mbombo Njoya. Also, as part of the contract for the coach, were signatures of other officials of the technical bench notably the assistant coach, François Omam Biyik, Jacques Songo'o, goalkeeping coach, physical trainer, video analyst and a liaison officer. According to the terms of the contract, Antonio Conceiçao will be based in Cameroon throughout his contract. Conceiçao said the national team is open for all. The new head coach was appointed late September 20, 2019 after Coach Clarence Seedorf was sacked following the poor showing of the Indomitable Lions at the 2019 AFCON in Egypt.
Read also :
Chantal Biya International Cycling Race : Organisers Unveil Itinerary
The 57-year-old gaffer is a renowned figure in international football. He had an intense career in European football and coached 12 clubs amongst them Portuguese sides Vitoria Setubal, Trofense, Belenenses. Conceiçao's first outing with the indomitable Lions will be on October 12, 2019, when Cameroon takes on Tunisia in a friendly game in Tunisia.
Read also :
Coupes africaines interclubs : la Fecafoot devra trancher
Same category