World Sambo Championship : Cameroon Grabs Silver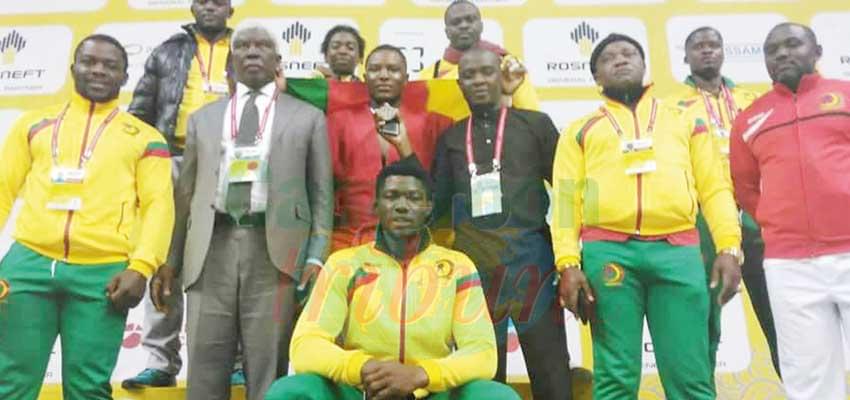 The vice champions of Africa have won the first silver medal for the continent in the World Championships.
Cameroon has won silver at the 43rd edition of the senior men and Women's World Sambo Championships in Cheongju, South Korea. The silver medal was won by Maxwell Nana Njantou in the 100kg category sambo combat. Organised by the World Sambo Federation, the competition brought together 500 athletes from 80 countries across the world. Maxwell Nana Njantou won two fights against Tunisian and Ukrainian adversaries before losing to Dussia's Sidelnikov Krill in the final. That was the first silver medal for the African continent in the World Sambo Championships. The victory came as a sigh of relief for Team Cameroon which saw it as an improvement as compared to the previous edition in Sotchi, Russia in 2017 where Cameroon bagged home three bronze medals.
The performances of the other four Cameroonian athletes also need to be encouraged from their determination. For instance Seydou Njimolou (-100kg) who lost to André Kazouonick from Belarus, Gérad Vanlier Ndam (+100kg) who won two fights against a Japanese and Honduras sambo athlete but lost technically in the third to a Moldavian, Team captain Raoul Njima Ehowa , won his first fight with a French athlete, Tom Peyrard in 90kg Sambo sportif before losing to a Belarus opponent. The only female athlete in the group, Danielle Mintom who was participating in the World Championship for the first time also put up a good performance. With the silver medal won by Cameroon at the World Sambo Championships, the vice champions of Africa have confirmed their as leaders of the discipline on the African continent. The next World Sambo Championship has been billed for Turkmenistan in November 2020. That will be preceded by the African Sambo Championship in Egypt in 2020 and other international tournaments.

Same category