Digital Transformation : Experts Brainstorm On Africa's Development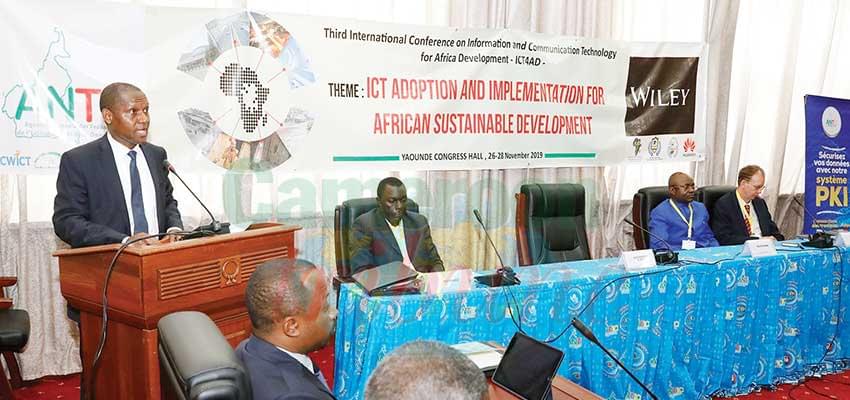 This is at the third international conference on Information and Communication Technology for Africa Development currently taking place in Yaounde.
Africa is facing many challenges relating to its sustainable development. Whereas, the continent is recognised as one with a very rich soil and subsoil, Africans do not optimally benefit from them as they lack technologies to transform the products thereof. It is within such backdrop that the third international conference on Information and Communication Technology for Africa Development (ICT4AD) began yesterday, November 26, in Yaounde under the theme "ICT Adoption and Implementation For African Sustainable Development."
Organised by the National Agency for Information and Communication Technologies (ANTIC) and the Ministry of Higher Education, the objective of the three-day event, which ends tomorrow, November 28, aims at combining the know-how of teachers and researchers, particularly in methodology and analysis, to share experience amongst ICT professionals in the Public and Private sectors, in order to make an objective diagnosis of the level of digital Transformation of the Cameroonian society, and to formulate proposals for the optimisation of the ICT Transformation potential of the country. While opening the conference, the Director General of ANTIC, Professor Ebot Ebot Enaw said to achieve the aim of the conference; participants will listen to presentations by ICT managers from Public and Private Structures on the Digital Transformation of their respective organisations, and also the presentations of research projects and articles which are products of the analysis of data collected using tools and models from the world of scientific research.
The Representative of the Minister of State, Minister of Higher Education, Professor Atsa Etoundi Roger said ICTs, represent an opportunity for development in Africa and Cameroon in particular. For Cameroon to become an emerging country by 2035, there is need for Cameroonians to be able to solve their problems by using ICTs. At the end of the conference, participants who are coming from Cameroon, Nigeria, Malawi, South Africa and Europe hope to develop strategies on how to attain objectives of transforming Cameroon to attain emergence by 2035.

Same category