Christmas Tree Celebration : American School Fetes 2019 GCE Outstanding Candidates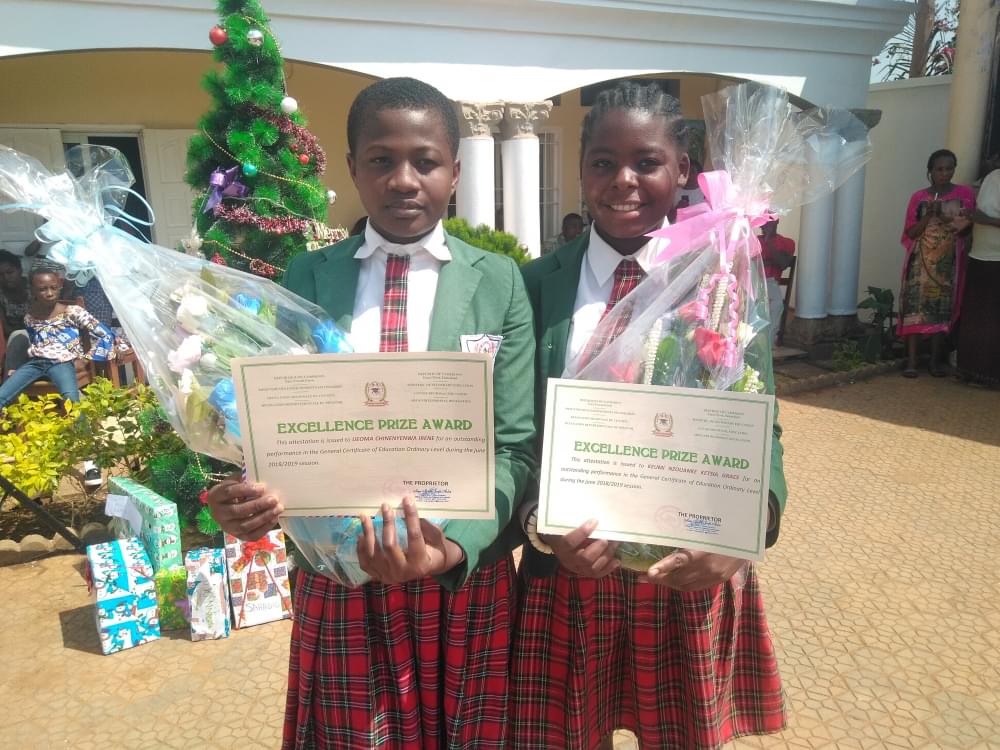 Keumi Nzouanke Ketsia Grace and Ijeoma Chinenyenwa Irene were offered handsome prizes for their performances.
The American School, Nkolbisson, Yaounde, on Friday, December 20, 2019 held a prize award and Christmas Tree celebration. The event was attended by notable personalities, including Archbishop Emeritus of Yaounde, Simon-Victor Tonye Bakot.
Revisiting the school's academic performance (nursery, primary, secondary and high school) since creation in September 2016, the Principal, Songhi F. Wam, said they scored 100 per cent in the 2019 General Certificate of Education, GCE Ordinary Level. With Keumi Nzouanke Ketsia Grace, being overall best student in the Etoug-Ebe, Yaounde GCE Ordinary Level Centre. While her classmate, Ijeoma Chinenyenwa Irene, was also the best in the GCE Ordinary Level in Yaounde 7 Subdivision.
In appreciation for their performance, the school offered the two students handsome cash prizes and attestations of recognition. In extra-curricular activities like National Youth Day march past, American School, Nkolbisson has in the past three years been amongst the best schools in Yaounde 7 Subdivision. In the primary section, the school has been scoring 100 per cent in the Government Common Entrance and First School Leaving Certificate examinations.
American School, Nkolbisson, Yaounde founder, Mani Marcel Aubin Joseph, sp...
Same category