2020 Legislative, Municipal Elections : More Calls For Active Participation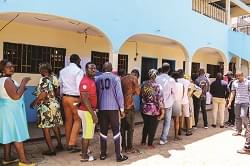 National and international individuals, moral persons and institutions continue preaching peace for the smooth conduct of the elections as democratic values warrant.
As Cameroon prepares to go to the polls on February 9, 2020 for the election of its members of the National Assembly and local representatives, calls for active participation multiply as more persons sue for peace in the North West and South Regions of the country. Traditional rulers, women's groups, political actors, civil society organisations and various associations have before and after the convening of the Electoral College by the President of the Republic called for peace and the respect of the democratic values.
In a recent release, United States Congress member, Karen Bass who is Chair of the House of the Foreign Affairs Subcommittee on Africa and who had been skeptical about the situation has encouraged the peaceful commitments of separatists for the smooth conduct of the upcoming twin elections. "I encourage separatists to commit to peacefully revolving the conflict in order for the country to have open and fair elections for all in 2020," reads in part her release of December 17, 2019. The Congress lady's release also expresses alarm over the latest kidnapping of local officials and parliamentary candidates by separatists, describing the actions as counterproductive and not conducive in getting a definite solution to the crisis in the two English speaking regions. Kidnapping of persons by separatists fighters for various reasons, non-respect of State institutions and other violent or unlawful actions have always been condemned by patriotic citizens and other national and internal moral persons.
On a similar note, the joint declaration of the tripartite visit to Cameroon of November 28, 2019 comprising the Chairperson of the African Union, Moussa Faki Mahamat, the Secretary General of the International Organisation of La Francophonie, Louise Mushikiwabo and the Secretary General of the Commonwealth, Patricia Scotland, prays for the creation of conditions conducive to the conduct of the legislative and local elections. With more voices calling on the peaceful settlement of the socio-political situation in the North West and South West Regions, opinion leaders hold that patriotic Cameroonians should be allowed to exercise their civic responsibilities in accordance with the Constitution.
Same category