Buea Central Prison : Bishop Offers Gifts To Inmates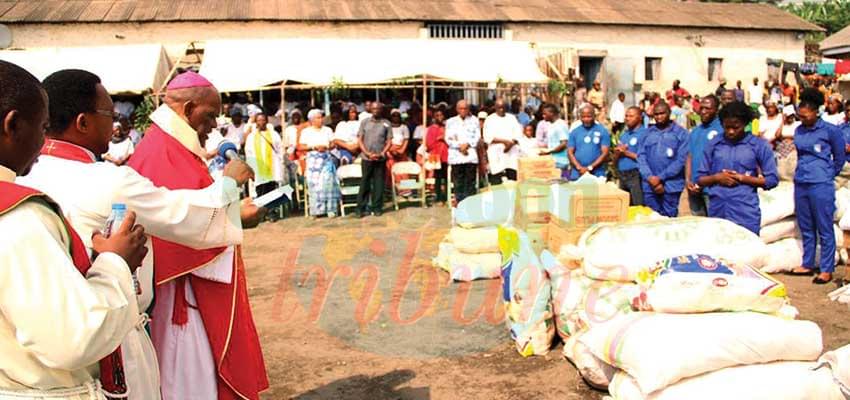 Spearheaded by CARITAS, it was the 13th time the Chief Shepherd of the Diocese of Buea held a December 26 Mass in prison.
Each inmate in the Buea Central Prison and Upper Farms Prison has received 4 kg of garri, 2kg of rice, 1kg of sugar, 500 gram of salt, 500 ml of palm oil, I bar of antiseptic soap, 1 cube of soap and 2 sanitary pads for females. His Lordship Immanuel Bushu, Bishop of the Diocese of Buea made the donation on December 26, 2019 at the Buea Central Prison and Upper Farms Prison. Thursday's event marked the Bishop's 13th edition of celebrating Mass in prison every December 26 with inmates. Joined by a college of Priests, Rev. Sisters and Catholic faithful, the Chief Shepherd of the Diocese of Buea entreated the prisoners to put their trust in God.
It was a moment for 14 inmates who had their baptism on December 25, 2019 and eight other that were confirmed into the Roman Catholic faith received their first holy communion. Songs of adoration filled the prison. The inmates performed traditional dance and drama. Earlier, the Superintendent of Buea Central Prison expressed gratitude to the Catholic Community for coming to pray for the inmates. That their prayers and food donation have lifted the spirit and morale of the prisoners.
The Director of CARITAS, Pierre Ernest Tchinda, told inmates that the department of Justice and Peace is directly concern with them. As such CARITAS will stand by them and share in their troubles. "Our doors are very open for those of you who need any form of assistance. It ranges from advocacy, assistance to the sick and needy, reconciling inmates and families, provide food and non-food items, facilitate the acquisition of legal documents etc," he told them. He encouraged the inmates not to lose hope. That they should take the prison as a place of reformation and reflection. CARITAS of the Diocese of Buea is the charitable arm of the church with a socio-pastoral mission with leading goal of spreading solidarity and social justice.


Same category