Mediatude Media Awards: SOPECAM Showcases Its Digital Strides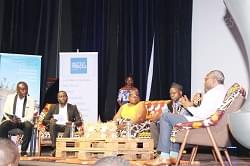 The event in Douala on February 1, 2020 also saw the handover of prizes to journalists and media houses that excelled in online journalism in 2019.
The Cameroon News and Publishing Corporation, SOPECAM today boasts a number of products in its stable. The most popular being its flagship publication, Cameroon Tribune bilingual daily. Founded in 1974, the paper was amongst the first in the country to go digital about 14 years ago. Ever since, Cameroon Tribune has rebranded its website several times, the latest being in 2019. All in a bid to keep abreast with latest trends in online journalism. It is these experiences that SOPECAM staff shared with the audience on February 1, 2020 in the French Institute, Douala at the 2019 Mediatude Media Awards during the second panel discussion. Entitled "Traditional Media: Adapt to the internet or perish? The case of the print media," the panelists were Beatrice Clarisse Beyala, Head of Infrastructure Systems and Network, SOPECAM, Kimeng Hilton Ndukong, Coordinator, Cameroon Tribune Online, Haman Mana, publisher of Le Jour newspaper, and Fidele Mole, General Manager of eKiosque, an online media sales outfit.
The SOPECAM representatives shared with other panel members and the huge audience how management has over the years trained and retrained reporters in web journalism and how online sales of SOPECAM products have been rising. Similarly, security has been tightened around Cameroon Tribune's website to prevent hacking and the illegal copying of its articles and pictures.
Moreover, Cameroon Tribune Online aims to become an autonomous newsroom, able to generate all of its own content. Instead of using mostly the articles of the print version as it is the case now. Cameroon Tribune is probably the only newspaper in the country that has been running a regular, updated website for about 14 years now. Cameroon Tribune Online has a Facebook account with over 34,000 subscribers. The website in 2018 received over 854,000 hits; with the number rising to more than a million in 2019.
The 2019 Mediatude Media Awards dubbed "Meet & Greet Media Awards," was marked by the handover of 25 prizes in different categories. The online vote by followers of Mediatude's Facebook account gave 10 of the 25 prizes to staff and media houses of the Equinoxe Group (Equinoxe TV, Balafaon Radio and La Nouvelle Expression newspaper). Recently retired Cameroon Radio Television, CRTV ace news presenter, Alain Belibi, as special guest of honour, was awarded a special prize.
Same category