Spectacle : soleil de Jamaïque sur Yaoundé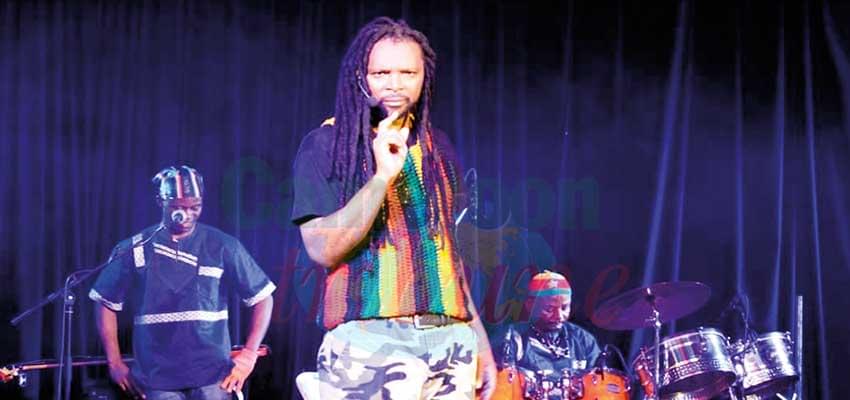 L'artiste Erik Beck a présenté le 8 février dernier, son premier album reggae intitulé « Révélation ».
Read also :
« The Fisherman's Diary » aux Oscars : l'onction du Minac
Rythmes et couleurs de Jamaïque ont investi le 8 février dernier, le Centre culturel camerounais à Yaoundé. Sur scène, Beck Awoumou Ebode, alias Erik Beck. L'artiste présente « Révélation », son premier album aux essences reggae, qui traite de l'amour pour la patrie, des rêves et de la femme. L'opus de 10 titres a été enregistré en 2019, en partenariat avec la maison de production Roots And Culture Club House et le groupe Le BBS (Bongo Be Sham, Les Fils du Noir en langue Eton).
Read also :
La Sopecam accueille Lilian Thuram
Des galettes musicales chantées en français, en anglais et en langues locales comme l'ewondo et l'eton. Le style musical de Beck est une fusion de reggae avec des sonorités du terroir. Dans ses œuvres, on retrouve des liens avec des références comme Bob Marley, ou encore les Camerounais Samuel Minkio Bamba et René Joseph Jam Afane. Différents morceaux qui ont donné lieu à une communion entre le public et celui que certains appellent affectueusement « Le chanteur patriote ».
Read also :
« Mes livres permettent de libérer la parole »
Après 10 ans de carrière musicale, la présentation de « Révélation » annonce également le retour sur scène pour le musicien camerounais. Mais aussi, une tournée nationale afin de contribuer au développement du reggae au Cameroun. « Car le reggae c'est l'amour, la paix et l'unité », a souligné Erik Beck.
Read also :
Quinzaine du film lycéen : le temps des récompenses
Same category