February 9 Municipal, Législative Elections : CEMAC Observers Hail Conduct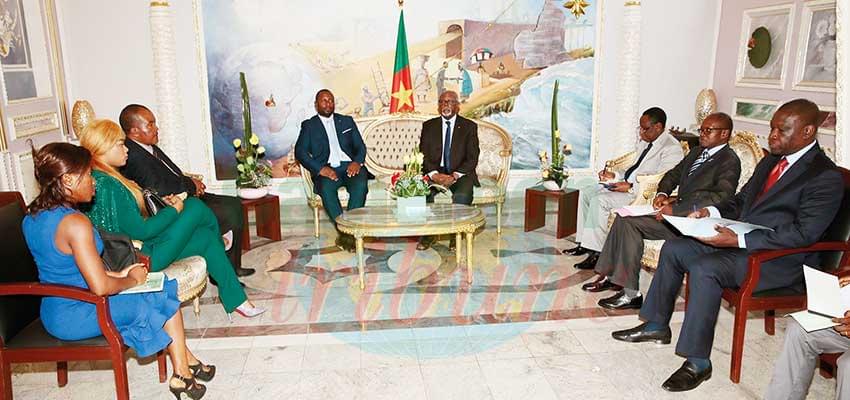 In an audience at the Ministry of External Relations, the delegation presented their observations to Minister Mbella Mbella, stating the elections were democratic.
The Minister of External Relations, Mbella Mbella on February 17, 2020 received in audience the elections observer mission called the Union of Youths of the Economic Community of Central African States (UJ-CEMAC) during which the delegation presented their observations for the just organised municipal and legislative elections. Led by the head of mission of UJ-CEMAC, Cyrille Nguiegang, the delegation which had observers deployed to the different regions made known their remark of the entire electoral process to Minister Mbella Mbella, saying from their observations, the elections were fair.
Speaking to reporters at the end of the over one hour audience, Cyrille Nguiegang, acclaimed Cameroonian authorities for the efforts to smoothly organise the elections and the population for their sense of patriotism. "We understand that Cameroon adopted measures for the elections to be transparent and credible. From our mission on the observation of elections which comes to end, we observed the electoral process was democratic. The people of Cameroon are democratically mature and there was no major incident during the process," he stated.
While noting that Cameroon is a peaceful country, Cyrille Nguiegang further called on the political class and civil society organisations to continue working for the advancement of Cameroon in particular and Africa in general. "We thank the population of Cameroon for their sense of patriotism. Cameroon is a peaceful country and we are happy to have been in Cameroon for the observation of the elections. We say the electoral process went on well," he said. In a press declaration on February 12, 2020 in Yaounde, Cyrille Nguiegang had stated the elections by their rating were fair and transparent with inclusive participation.

Same category