Legislative Election : Parties Prepare For Post-electoral Disputes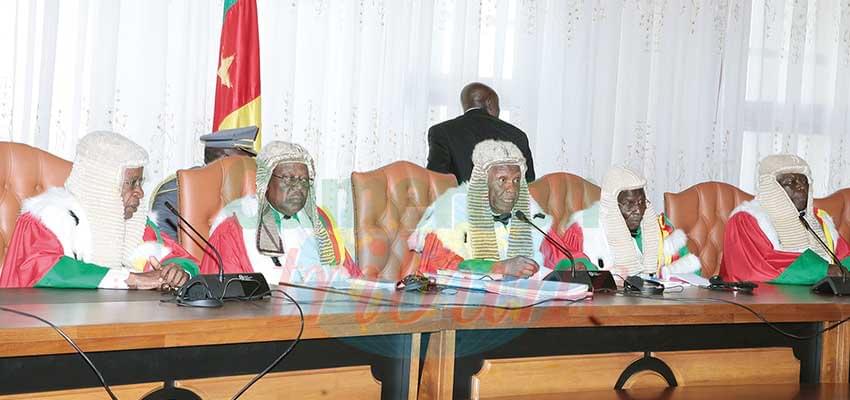 The ruling on the petitions following the twin elections of February 9, 2020 will take place in the coming days.
Eleven political parties that participated in the February 9, 2020 election of Members of the National Assembly filed 35 petitions at the Constitutional Council calling for the partial or total cancellation of the election results.
The opposition Social Democratic Front (SDF) following information at the Registry of the Constitutional Council, tops the chart of complainants with 14 petitions. The party cites some constituencies in the North West Region where the election results have to be partially cancelled and in one of the petitions called for the total cancellation of the results in the entire North West Region. It has also called for the partial cancellation of the election results in Buea Rural, Fako East and Lebialem constituencies in the South West Region. The National Union for Democracy and Progress (NUDP) comes second with calls for the partial cancellation of the election results in five constituencies that include Mayo-Rey, Mayo-Sava, Mayo-Tsanaga-Sud, Mayo-Louti and Mayo-Banyu.
As the time for the ruling on the petitions draws nearer, the complainants and political parties whose election victories are being contested are leaving no stone unturned to defend their cases at the Constitutional Council. Information from the General Secretariat of the Central Committee of the Cameroon People's Democratic Movement (CPDM) indicates that Minister Grégoire Owona who is the Deputy Secretary General of the CPDM Central Committee is heading an Electoral Disputes Sub-Committee that is currently at work preparing for the hearings. The Social Democratic Front (SDF), according to its National Secretary for Communication, Denis Nkemlemo is also at work. He told Cameroon Tribune that the SDF has a legal team of seven lawyers to whom all the facts from the field have been forwarded. He disclosed that they are preparing the defence following the facts. The Cameroon Democratic Union whose victory is contested in Noun-Centre Constituency in the West Region, according to one of its Political Bureau members, Koupit Adamou has already finished clarifications on the case and submitted to the Constitutional Council. He said the party is calm and waiting to defend its victory during the hearings.
The National Commission for the Final Counting of Votes, has already finished the vote counting operation and its report being forwarded to the Constitutional Council. The Constitutional Council would in the days ahead rule on the legislative election petitions. This will be in preparation to respect the provisions of the Electoral Code whose Section 168 (1) states that, "the Constitutional Council shall ensure the regularity of the election of Members of Parliament. It shall proclaim the results within a maximum period of 20 days with effect from the date of the closure of polls." This implies that the results are expected by the end of next week.

Same category