Institutions : South Korea Ambassador Visits Customs Data Centre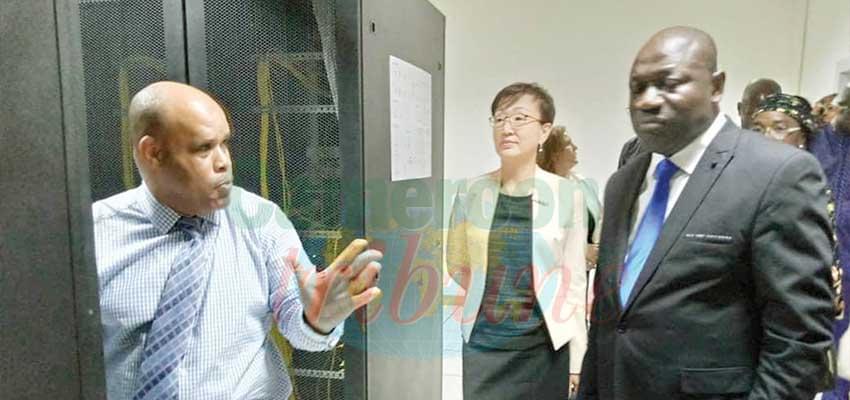 The Data centre will ensure efficiency and flexibility within the Customs sector.
The South Korea Ambassador to Cameroon Bok-ryeol Rhyou has paid a visit to the Customs Data centre known as Cameroon Customs Information System –CAMCIS which is the latest Information Technology system for Cameroon customs. During her visit, the Ambassador was taken round the centre to get an appraisal of the system which is said to be very performant, efficient, and flexible. The centre that was constructed by the CAMPASS, a South Korean Company, will enable the customs sector to improve in quality external trade electronic formalities. According to the General Manager of the CAMPASS, Thouraya Hijazi, the modernization of the Cameroon Information system was materialized by a public/private partnership contract signed between CAMPASS of South Korea and the government of Cameroon which was designed to construct and equip the two data centres in Douala and Yaounde, and to design the application of a new customs clearance computer system in Cameroon.
For the South Korean Ambassador it was timely to upgrade the customs system in Cameroon, before now, she went on, the customs system had some limitation and she hope that CAMICS will help improve on the situation. She said owing that Cameroon has large seaports in Douala and Kribi the new Data system will meet up with the demands and make transaction within the customs sector easy and free of bottle necks. In a bid to increase trade, the Cameroon government went into partnership with CAMPASS for the realization of the centre, she added.
It should be recalled that the Douala Data centre is composed of 16 racks of devices and network equipment, a modern monitoring room. It has an internal portal which is reserved for customs officials which will provide access to functions as freight, clearance, collection of taxes, risk management and others, It also has an external portal which will enable custom brokers, consignees, airlines, handlers companies, cargo consolidators, and unbundles to connect. It also has a free access to useful information such as exchange rates, zip codes area code currency and provides manuals used in foreign trade. Meanwhile, the External Custom gate is reserved for governmental (finances, forestry, taxation, and treasury) diplomatic organization, banks just to name a few.

Same category