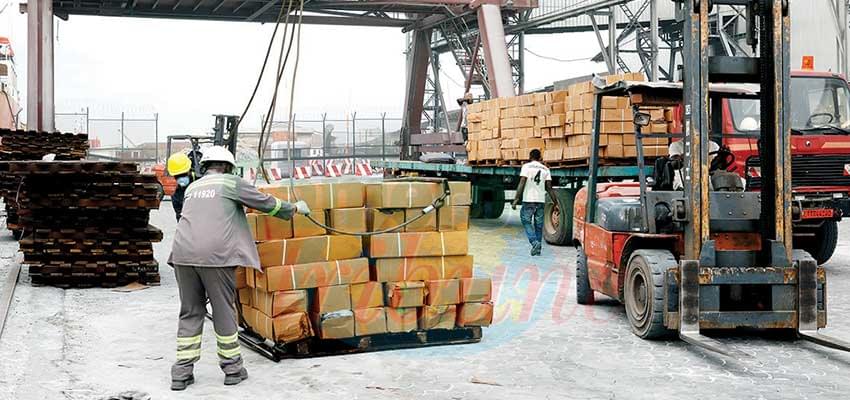 With its abundance of activities, the place is battling between keeping the country's supply chain open, while implementing safety measures against Covid-19.
While the rest of the country has been compelled to drop to lower operational gears at this time when the world battles against the Coronavirus, the over 17 wharfs which make up the Douala maritime port have remained in overdrive mode. From petroleum products to frozen fish, wheat, rice, sugar, oil for cooking and a plethora of other essential merchandises, the activities taking place at these wharfs are of vital importance in keeping Cameroon's economy afloat especially at such perilous times. The Cameroon Dockers Services has provided premium gadgets in the detection, separation, confinement and accompaniment of suspected Covid-19 cases, as its workers carry out their duties around the wharf. With protective shoes, gloves, face mask and cloths, these dock workers are seen meticulously carrying out their duty by day or by night.
On Thursday, March 26, 2020, some eight ships had just accosted at the wharf going through the medical tests. Dock workers are on board offloading essential products. The ship, Sea Phantou could be seen transmitting petrol through a pipe that goes directly to the SCDP tanks. The refrigerator ship, Frio Poseidon is next on line carrying fish commonly called mackerel. The head of the dock workers here, Aloysius Taling said all his collaborators are wearing face mask, gloves and protective dresses especially those who had entered into the ship to load the fish into various cartons. Taling also explained that because they have over 25,000 cartons of fish to offload, his mates inside the ship have been urged to respect the social distancing of 1.5 metres between each other. At about 10: 00 am, the ship "Jakob Selmer" had just accosted at the port occupying wharf four and five because of its length. Offloading of its goods is yet to commence. But one will see dock workers putting in place the necessary apparatus and sanitation measures to begin. Meanwhile on wharf six, the unloading of some 22,000 tons of wheat is taking place from the ship "Action Trader". Panamana" is another bulk carrier occupying wharf eight and nine with iron pipes on board. Another ship was seen along the wharf from which was been unloaded containers carrying the name UN. Above midday, the bulk carrier "Lanna Naree" had just accosted on wharf 10. The first person to approach the ship was a health worker dressed with protective equipment from head to toe. Personnel at the Terminal Mixte Fruitier could be seen reinforcing hygiene measures around the wharf as they await a ship which was just 10 kilometres away. The head at this terminal said they have no choice but to reinforce all sanitation measures because good health has no price.

Same category